I am not a big fan of Las Vegas. I don't gamble, enjoy over-the-top entertainment or frequent strip joints. Still, I do go to Vegas frequently for a regularly recurring surgical conference. On these occasions my sole pleasure in this city of sin is exploring zany wine lists. This year was no exception.
First some background.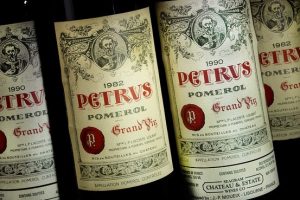 Eight years ago I wrote about a bottle of 1982 Chateau Petrus that went for $12,000 at L'Atelier de Joel Rebuchon, a restaurant at MGM Grand (see my blog, Las Vegas Insanity, 2/7/2010). It was a regular, 24 oz bottle. The exact same bottle was listed for $14,500 at Picasso, an upscale restaurant at Bellagio. A $5 taxi ride from one restaurant to the other could have saved you $2,500 in wine bill. Who buys this stuff, I mused then.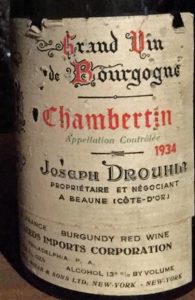 Two years later at Le Cirque, another upscale eatery in Bellagio, I spotted a Chateau Lafite Magnum for $33,800 (see Gambling in Vegas; $8000 for 80 Year Old Pinot, 2/4/2012). At $16,900 for a single bottle price, it topped the Petrus from Picasso. On this occasion my attention was also captured by a 1929 Chambertain by Drouhin selling for $8580. Ordering an eighty-three year old Pinot Noir for that price would have been a gamble bigger than any other in Vegas. Pinot Noir does not age well over that long a time span. What, I wondered, would be the criteria for refusing such a bottle after it is opened.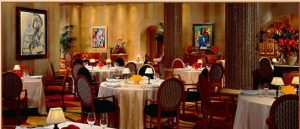 This year I was back at Picasso for a business dinner. It is an elegantly accoutered dining room in an out-of-the way downstairs enclave of the resort, overlooking the famous dancing fountains of Bellagio. Twenty original Picasso paintings adorn its walls. I didn't notice any of them. What did catch my eye immediately however, was a dimly lit wine storage unit where a series of Burgundian heavy-hitters from various old vintages were well illuminated, Romanée Conti, La Tache, Clos Veugeot etc. I couldn't wait to get my hands on the wine list.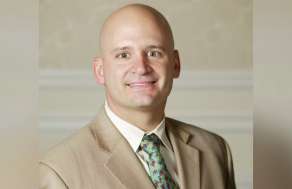 Sommeliers in upscale Vegas restaurants tend to be more formal than their counterparts in the Bay Area. Michael Schwab, the one who served us was no exception. He was also quite theatrical. He opened the bottles we ordered, one Spanish the other French, with much panache and with Spanish and French accents as he presented each. He seemed like a fun guy, charming. As we were soon to discover, he was also forthright.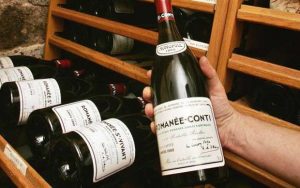 The list still had that same 1982 Chateau Petrus, now a few dollars shy of $20,000. Why not? The great recession is over and Vegas is booming. I also spotted a Lafite at around $19,000. The high-end Burgundies I had noticed earlier were in the $ 6-8000 range.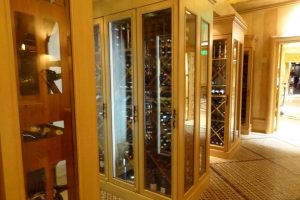 Having already contemplated the issue of who buys this stuff, I didn't need to ask about it. Easy-come-easy-go gamblers, celebrities, business tycoons trying to impress each other, wealthy men with illicit  paramours, to name a few. I had decided long ago that most were unlikely to be true wine lovers.
I also knew the answer to how the restaurant would react to the rejection of such bottles once they're opened. I had heard it from prior Vegas somms. It depended on the customer. High rollers and regular big spenders could have their field day. Low lives like me however, were stuck with their decisions.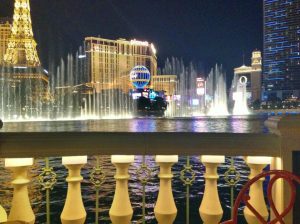 Shwab, re-confirmed this, but he went a bit further. The house, he said, knows exactly who each customer is and how much they've spent before they arrive at the restaurant. They would be treated accordingly. If you think you're anonymous in Vegas, think again. What stays in Vegas does indeed stay there, in the memory chips of their computer systems.
I did have a new question for Mr. Schwab. How well did he know the wines in his enormous list? I imagined that he got to taste the two-to-three digit priced wines populating most of it. But what about those heavy hitter Burgundies? What about that Petrus?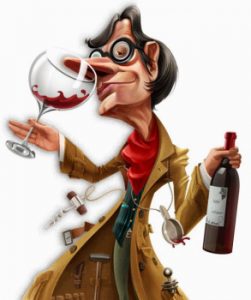 He liked my question and answered animatedly. We get to taste them all, he said, all those high end bottles. This was one of the advantages of being a somm in Vegas. He went on to tell us that those fancy multi-thousand dollar Burgundies would be selling like hotcakes just a few weeks from now when they would be celebrating the Chinese New Year and Vegas would be overrun by wealthy Chinese. There was no problem with opening a bottle or two here and there for the wine staff to taste.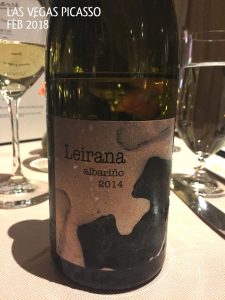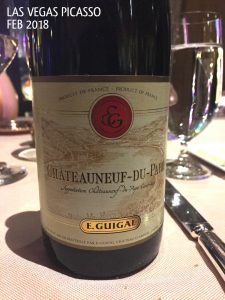 On this occasion I ordered a 2014 Leirana Albariño from Rias Biaxas, a crisp, dry fruity wine, more acidic than its counterparts that went well with lobster salad and seared scallops, and 2010 Guigal Chateauneuf du Pape, excellent with foie gras and lamb. At around $80 and 140 respectively, their cost was steeper than what I usually would select. Within the context of zany Vegas wine lists however, they were bargains.
Moris Senegor