I recently attended the largest tasting of Sicilian wines I've ever experienced: 4 whites, 14 reds and a dessert wine. For those who know anything about Sicily, it is mostly about Nero D'Avola. Yet there are many others. The island is home to thirty-plus appellations producing a variety of wines.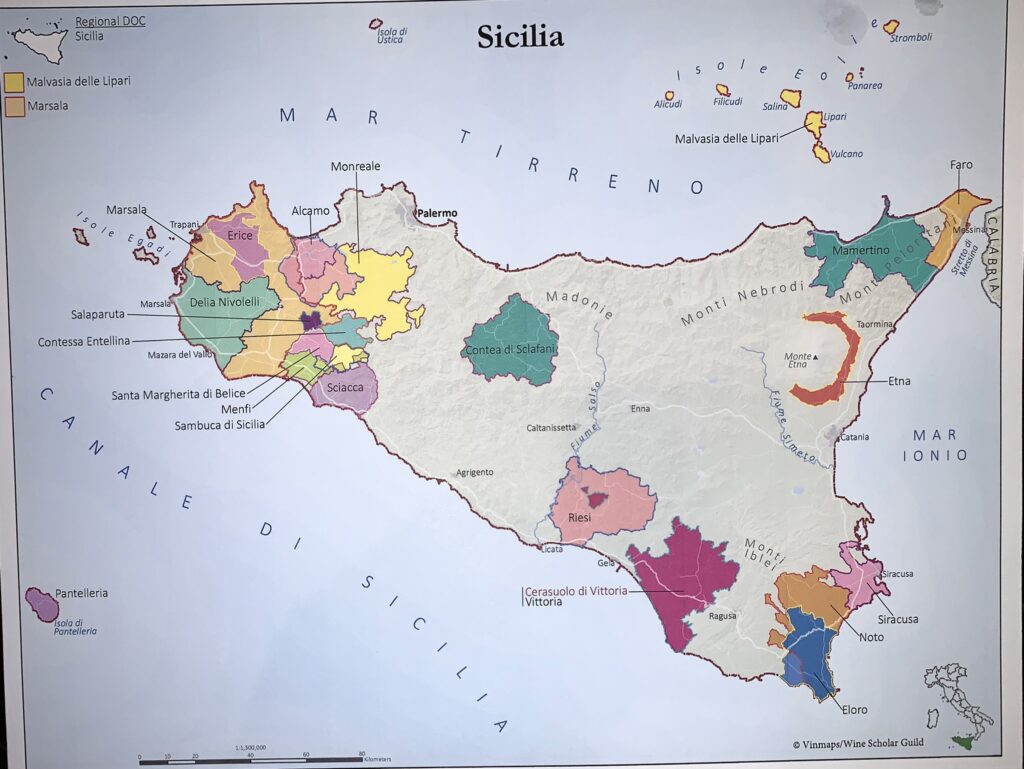 While it is impossible to taste them all, our tasting was a decent sampling of Sicily available here in the US. The format was BYOB. There were twelve attendants, including four professionals. We tasted them in pairs of like wines, discussing each pair immediately afterwards.
THE WHITES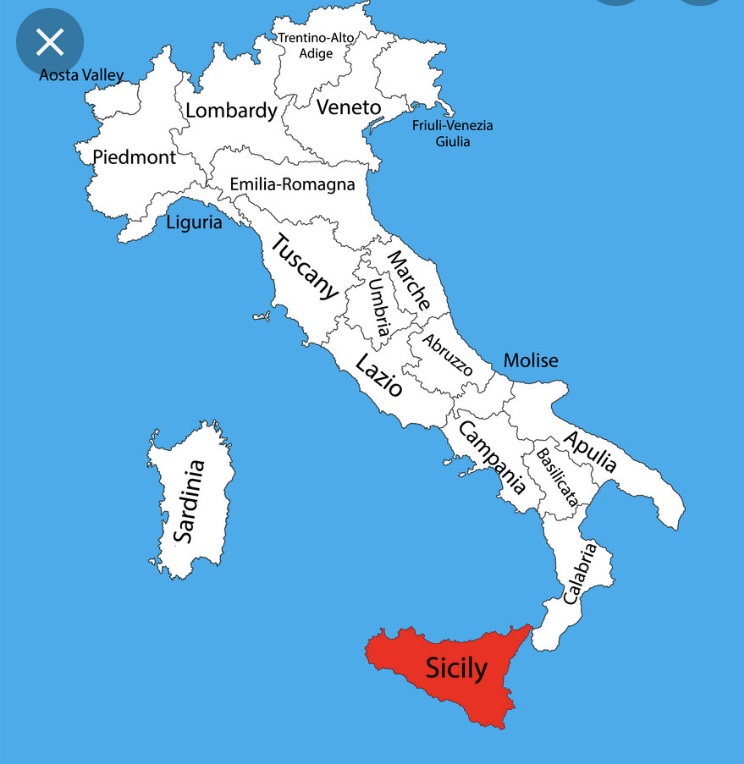 Sicily is the southernmost Italian wine region. With a warm climate, lots of sunshine and moderate rainfall it is ideal for wine production. It has a 2500-year history of wine making. Until recently it suffered from the same fate as other high yield regions such as Languedoc in France or our own Lodi in California: high volume, low respect. Currently a concerted gentrification effort to make finer Sicilian wine is bearing fruit. Hence the interest among wine connoisseurs in distant lands – like us.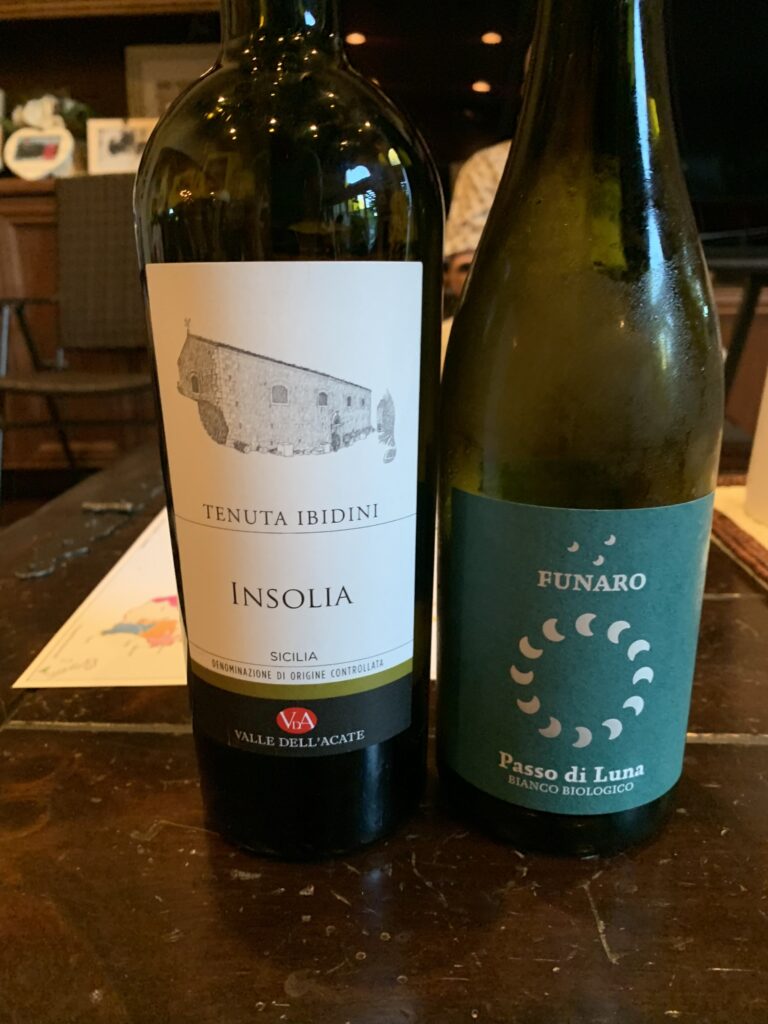 2020 TENUTA IBIDINI, INSOLIA: ($15)
Tenuta Ibidini is a 2nd label for Valle Dell Acate. The wine comes from an inland area in eastern Sicily. It is 100% Insolia, a grape that traditionally goes into Marsala, a fortified dessert wine. But it is also produced in a dry, crisp style. This wine had a toasty nose, lightly creamy texture, medium acidity and a short, oaky finish. The group agreed that it was redolent of New World Chardonnay. It was decent but not great.
2019 FUNARO, PASSO DI LUNA: ($25)
Located inland, south of Palermo, the Funaro estate is home to olive groves and white wine varietal plantings. This one was a blend of Insolia and Zibbibo. It was a crisp wine, with peach and nectarine fruit, bright acidity and a hint of chalkiness. It reminded me of Loire whites such as Muscadet. It had great potential for accompanying shellfish such as scallops. The group liked it.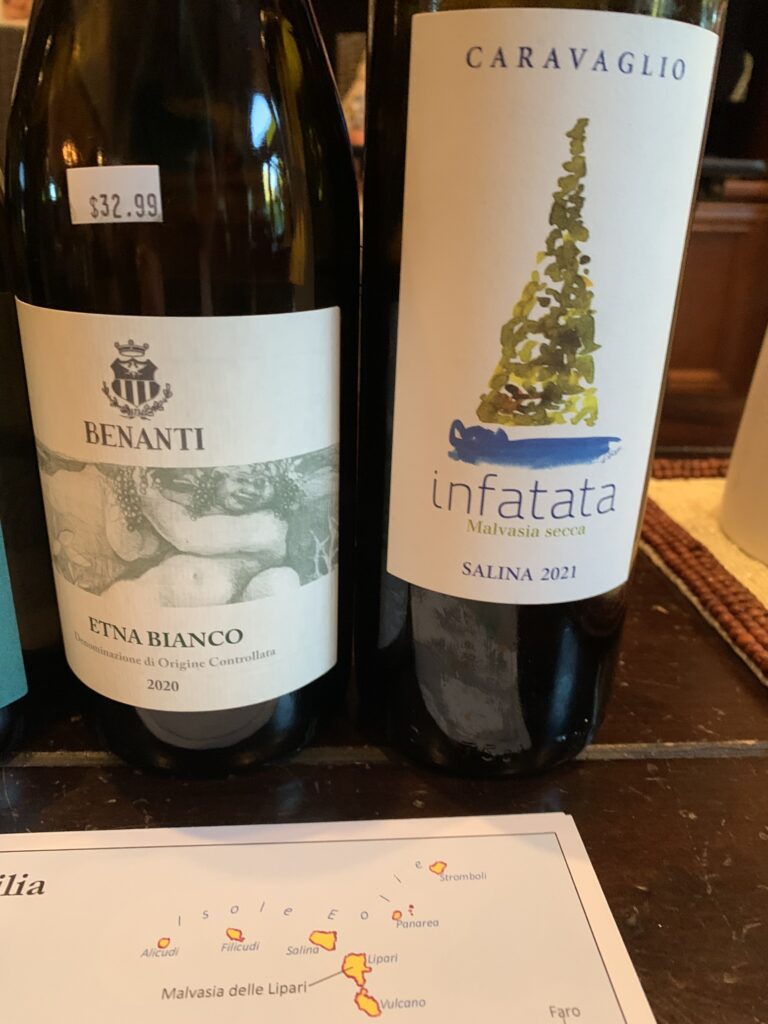 2020 BENANTI, ETNA BIANCO: ($33)
This was 100% Carricante, grown in the eastern and southern slopes of Mount Etna. It is the main white varietal of the Etna appellation. The nose had hints of apple, the entry was tropical fruit. It then featured a remarkable crescendo of acidity all the way through the finish, with minerality and salinity. It was another impressive wine, a good accompaniment to various types of seafood.
2020 CARAVAGLIO, INFATATA, MALVASIA SECA: ($25)
This one comes from the island of Salina, of the Aeolian archipelago, a group of volcanic islands north of Sicily.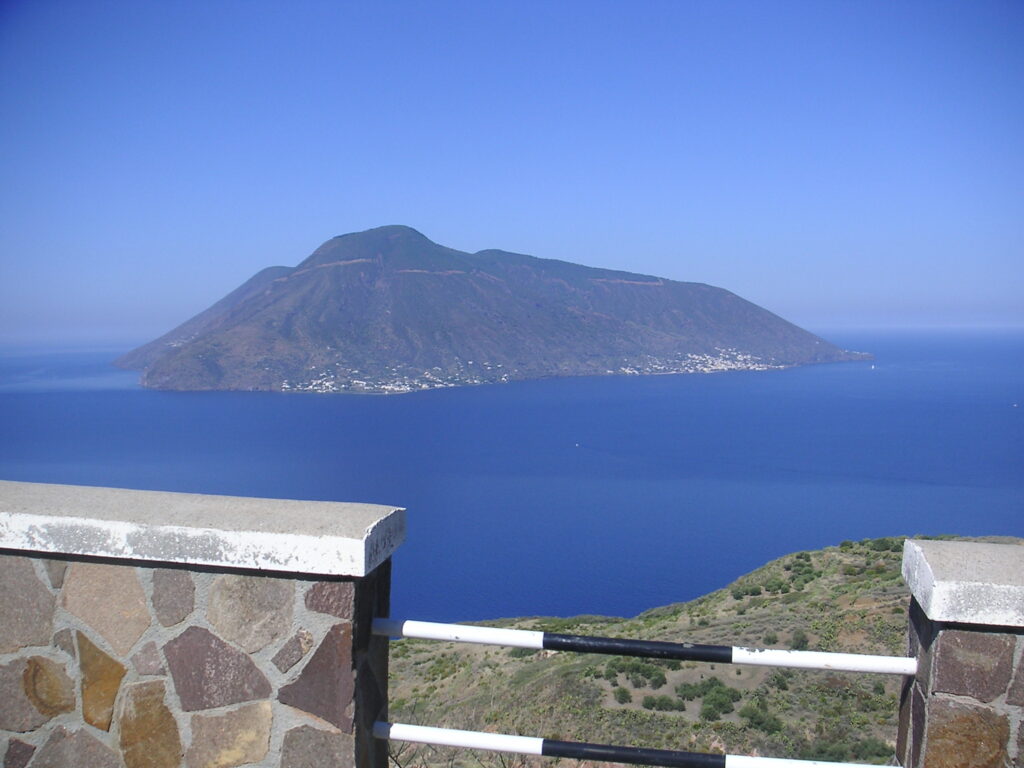 The varietal is Malvasia Bianca. Malvasia is more famous for sweet wines made in this island, but it is also used for dry table wines. "Infatata," means enchanted in Italian. It was a citrusy wine with a slightly creamy texture, and nutty flavors redolent of Albariño. It would have been impressive by itself but was outdone by its precedent, the Etna Bianco.
THE REDS
FRAPPATO: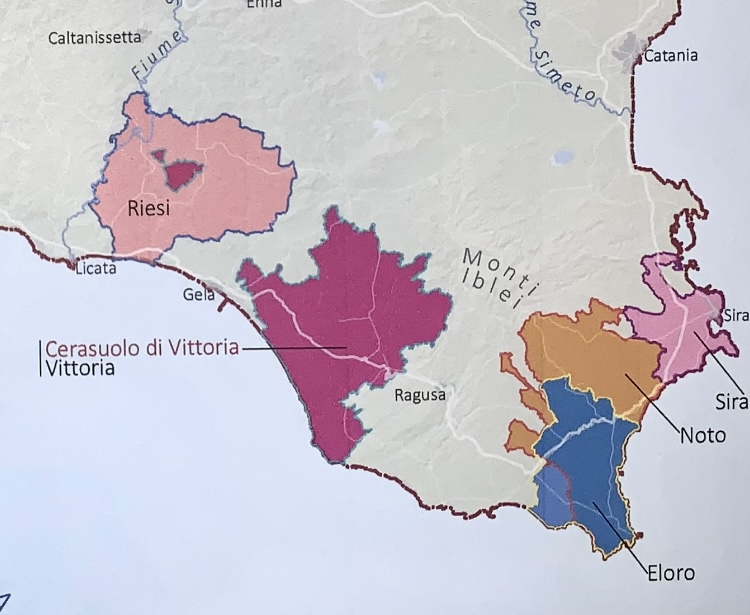 We tasted two Frapattos, both 2019s. Frappato is a light bodied wine, an unassuming easy drinker that hails from the Vittoria appellation in the south. Frappato is akin to Beaujolais in color and style, but features different flavors.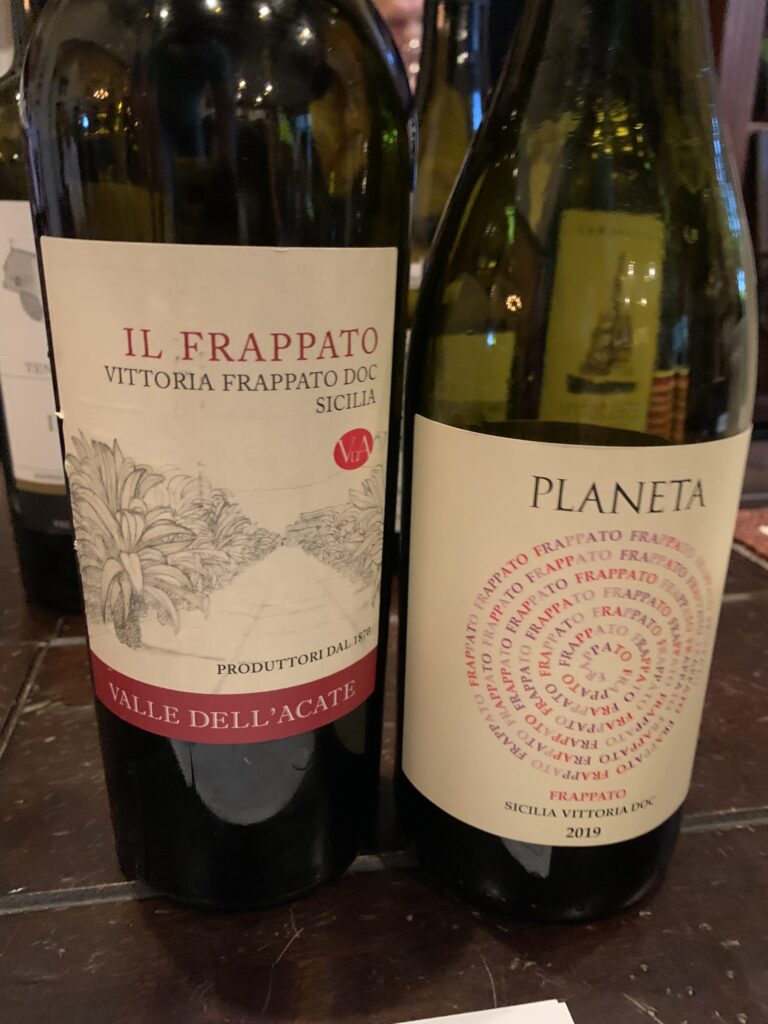 2019 IL FRAPPATO, VELLE DELL'ACATE: ($23)
Made by the same producer as the Insolia, this wine had a light ruby color, almost a rose. The nose was subtle, light red berries. In the mouth it was a simple wine, an easy drinker with prominent strawberry flavors, soft tannins and decent acidity. A Brunello it was not. But for summer drinking in the backyard, by the pool or in a picnic it was ideal.
2019 PLANETA: ($22)
You cannot have a tasting of this magnitude without a few bad bottles. Unfortunately, this was one off balance, tannins and acidity overtaking the fruit. The Planeta family makes low volume boutique wines. Maybe this was a bottle variation. I would not judge the label based on this one tasting.
We next moved on to a mismatched pair that didn't fit given categories but were in the right tasting order.
2017 PITTORE CONTADINO, CERASUOLO DI VITTORIA ($55)
This rare wine hails from the Vittoria appellation in the south, home of Frappato. It is 50% Nero d'Avola and 50% Frappato. It was full bodied, somewhat Syrah-like, with a mixture of red and dark berry flavors, solid acidity and soft tannins.
2019 CARAVAGLIO, NERO DI MUNDI, CORINTO NERO: ($22)
Back to the Aeolian islands. This wine comes from Lipari and is bottled by the Caravaglio family of Salina.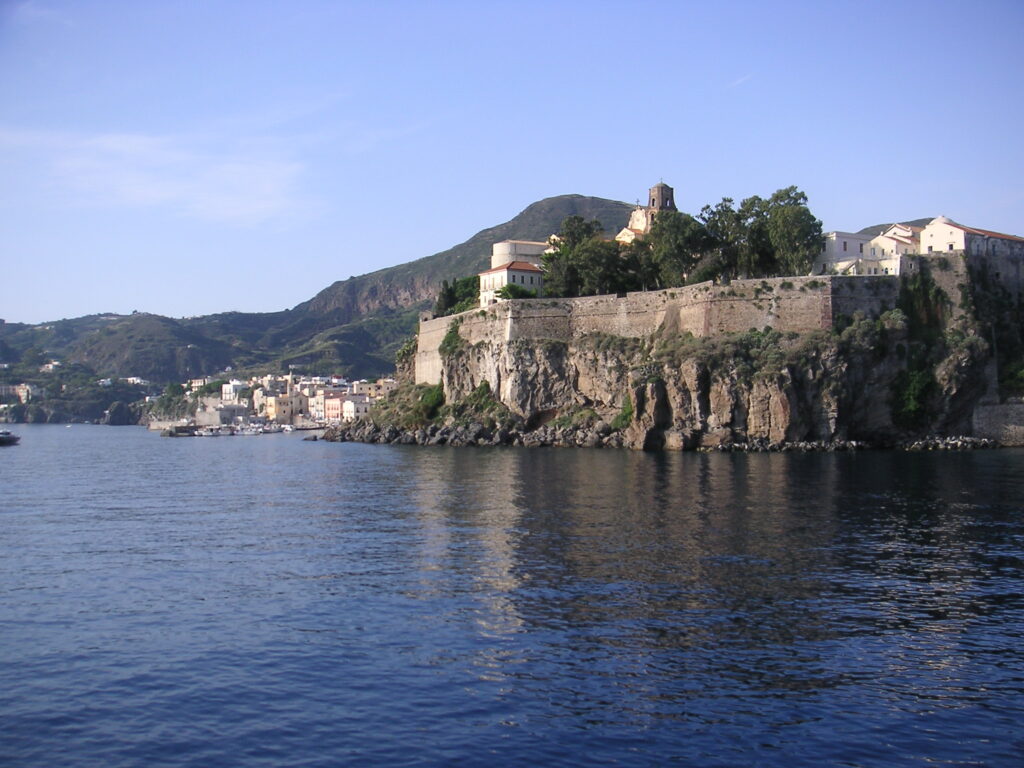 The varietal is Corinto Nero, a rarely encountered Mediterranean varietal. The grape receives its name from Corinth in Greece from where it is thought to have originated.  It was another dark colored, full-bodied wine with high extraction fruit –  cherry, red pepper, cassis –  salinity, late palate acidity and soft tannins.
ETNA ROSSO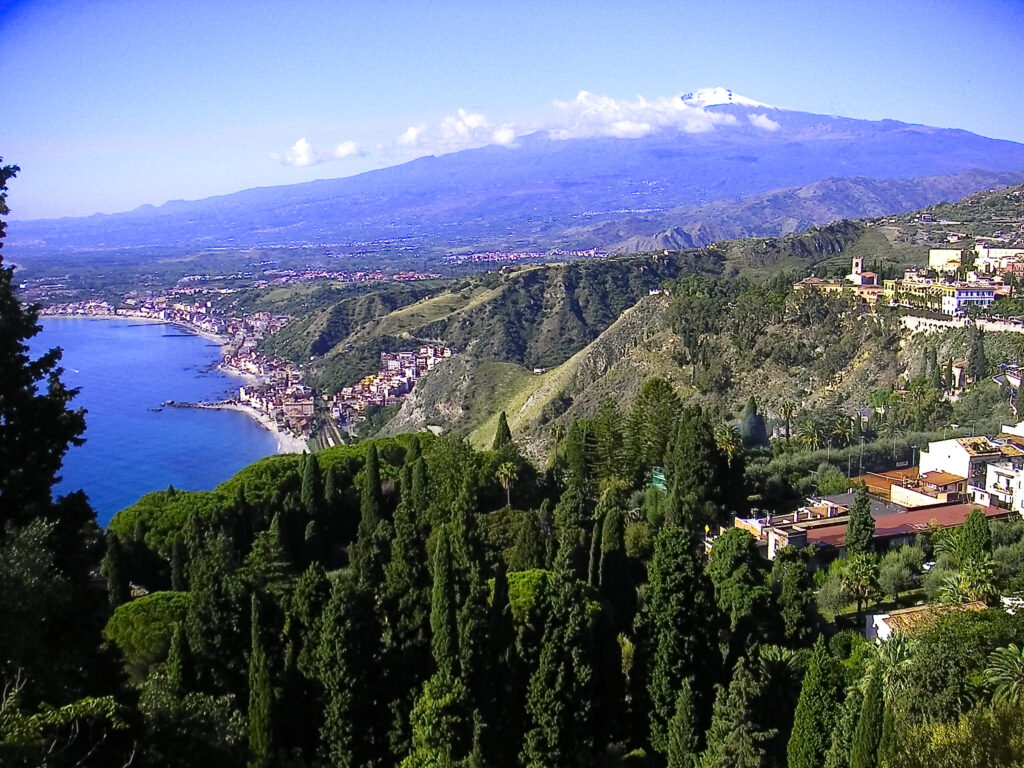 In our tasting circles Etna Rosso is rapidly rising in popularity. Hailing from the slopes of Mount Etna, this wine is made from the Nerello grape, mainly Nerello Masacalese, often mixed with Nerello Cappucio. It is another light bodied, easy drinking red but with more substance than Frappato.
The vineyards at Mt Etna form a semicircle on its eastern slopes. Depending on elevation and sun exposure the wine can be light, like Pinot Noir, or higher extraction, like Tuscan counterparts. We had four Etna Rossos in the tasting.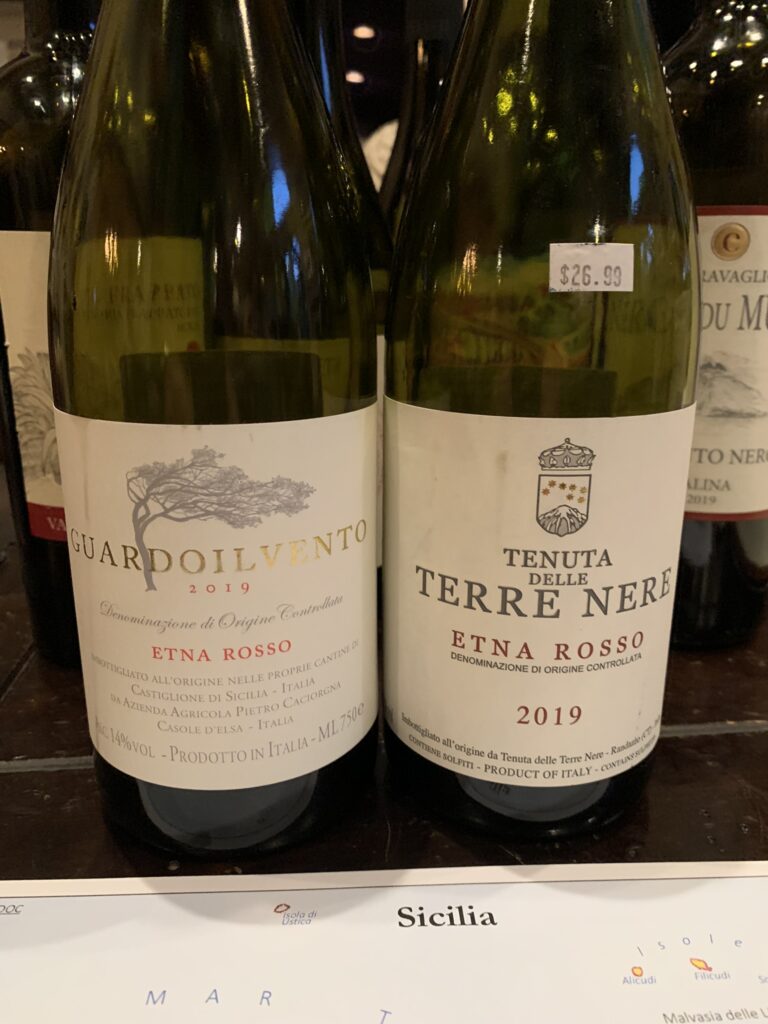 2019 GUARDOILVENTO, ETNA ROSSO: ($32)
This 100% Nerello Mascalese was an offputting wine. It had a cat pee nose, like New Zealand Sauvignon Blanc. It was crisp, with strawberry fruit, sweet and tannic. It was also a slightly spritzy. A winemaker in our group explained that the defects of the wine, especially the nose, was due to faulty winemaking.
2019 TENUTA DELLE TERRE NERE, ETNA ROSSO: ($22)
95% Nerello Masacalese, 5% Nerello Cappuccio. Subtle floral and peppery nose. Well balanced in the palate with cherry fruit, firm acidity and moderate tannins. The wine was well put together.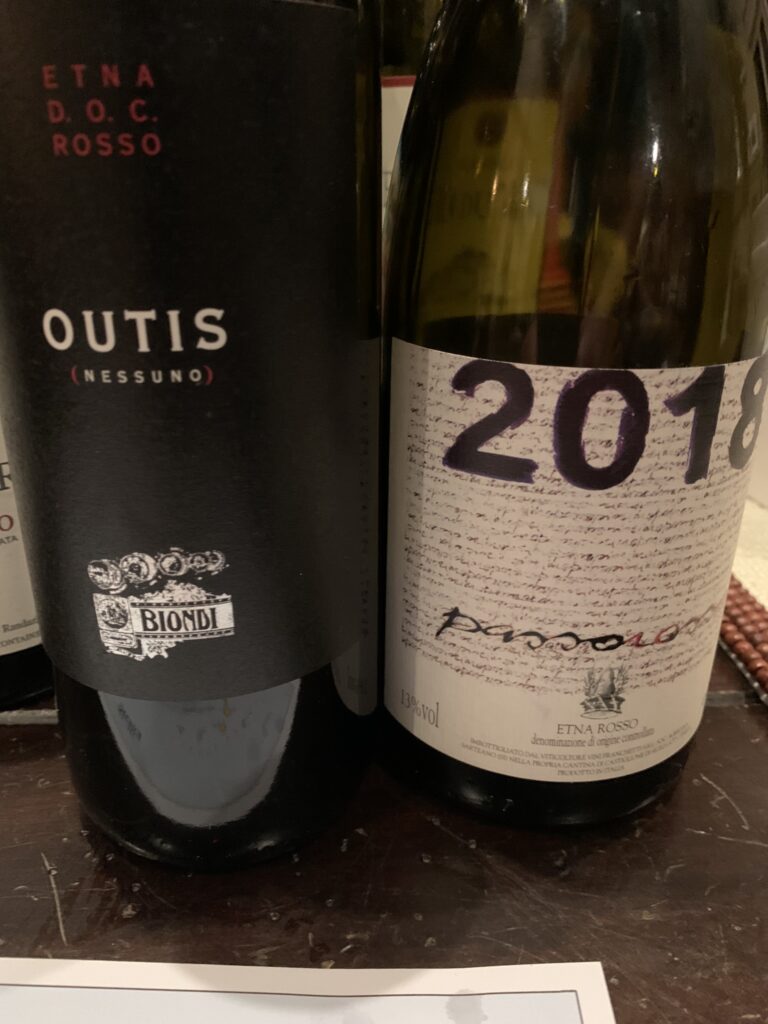 2018 OUTIS NESSUNO, ETNA ROSSO: ($40)
Named after an episode in the Odyssey – outis means no one – this wine made by Ciro Biondi, comes from the northern slopes of Mt. Etna, an area that produces darker, more structured wines. I would have liked to have tasted this wine when it was younger. It looked and tasted old, on the verge of over-the-hill. Light color, fruit that had dropped out and strong acidity was all that was left.
2018 PASSO ROSSO, ETNA ROSSO:
Another one from the northern slopes of Mt. Etna, 100% Nerello Mascalese. This wine featured highly extracted cherry fruit, soft tannins and a long acid finish.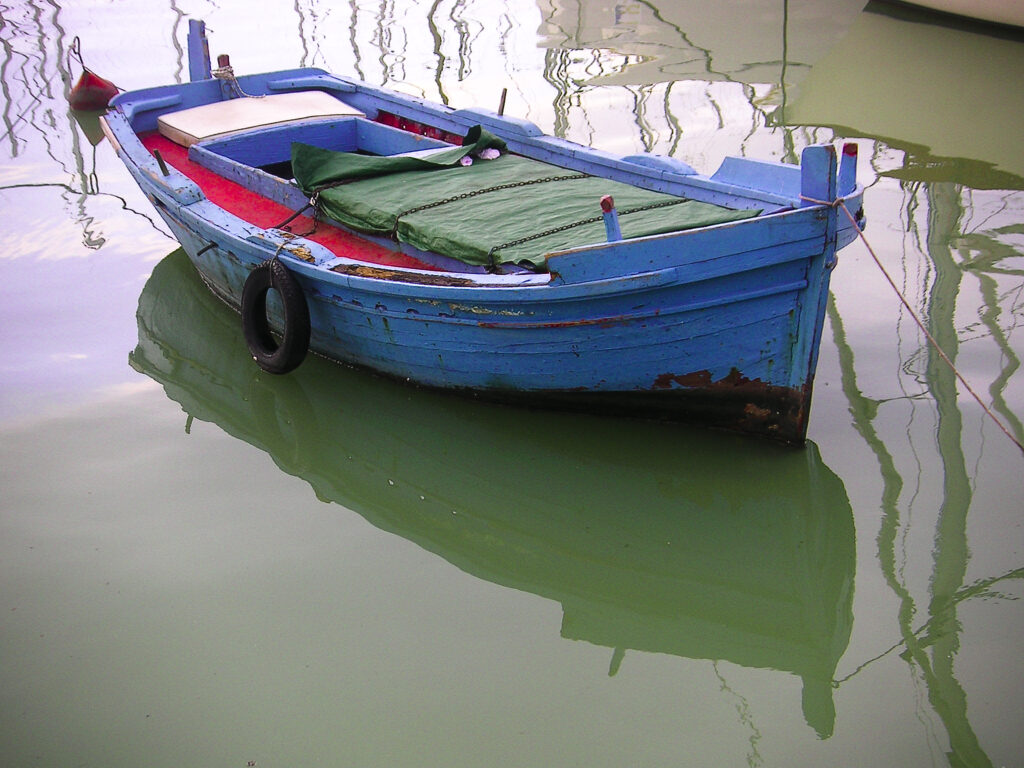 NERO D'AVOLA
This is the one varietal Sicily is best known for. Named after the town of Avola in southeastern Sicily, this black skinned grape is widely planted in Sicily and has been so for centuries. Initially a blending grape, it is increasingly used in single varietal fine wines. It is a full-bodied wine, akin to Cabernet or Syrah, with medium acidity and high tannins. The rich fruit of Nero D'Avola packs a much bigger punch than Frappato or Etna Rosso.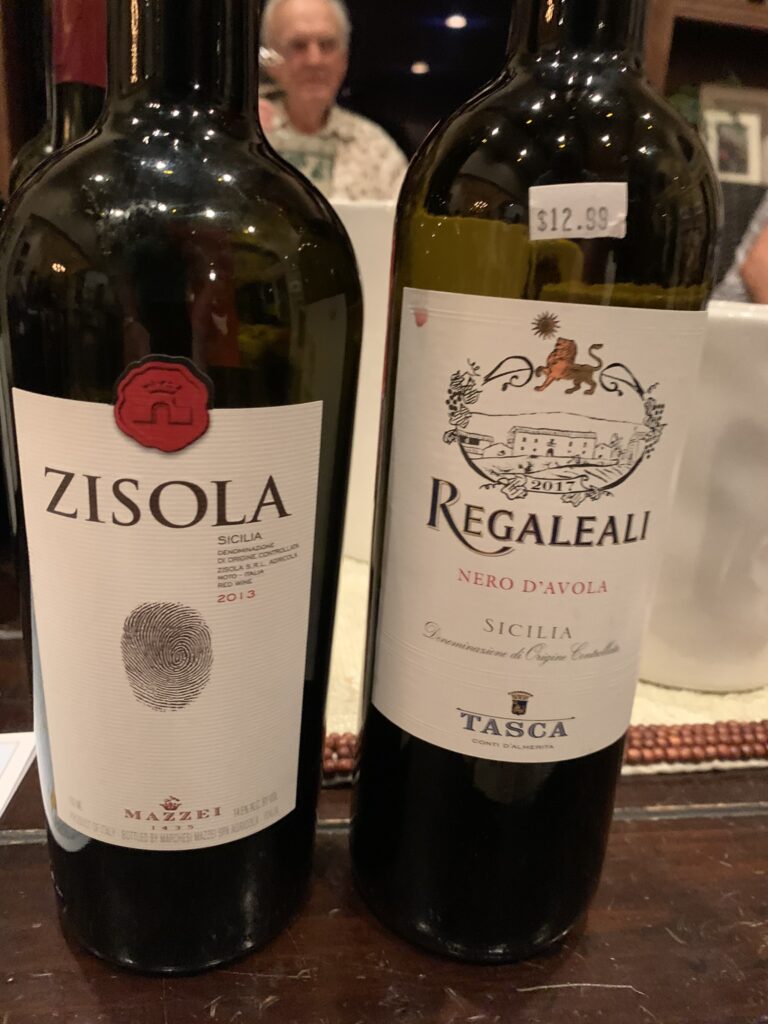 2013 ZISOLA NOTO ROSSO, MAZZEI: ($20)
Located in Noto, a town in Southeastern Sicily, Zisola is an endeavor by the Mazzei family of Tuscan fame. This was the oldest wine in the tasting. One could not tell that this wine was nearly a decade old. It was dark, bold, with big fruit, spicy mid palate, big acidity and prominent late tannins. It had an oaky finish. This should be a favorite for lovers of big, bold wines.
2017 REGALIALI, TASCA: ($13)
This was one of the first Nero D'Avolas to hit the US market. Located in central Sicily, south of Palermo, Regaliali is part of the Tasca D'Almerita group of estates, making wines in various regions of the island. This wine was typically Italian, lighter bodied, with sour cherry fruit and plenty of acidity. It was well balanced. A good food wine, and a bargain at that price.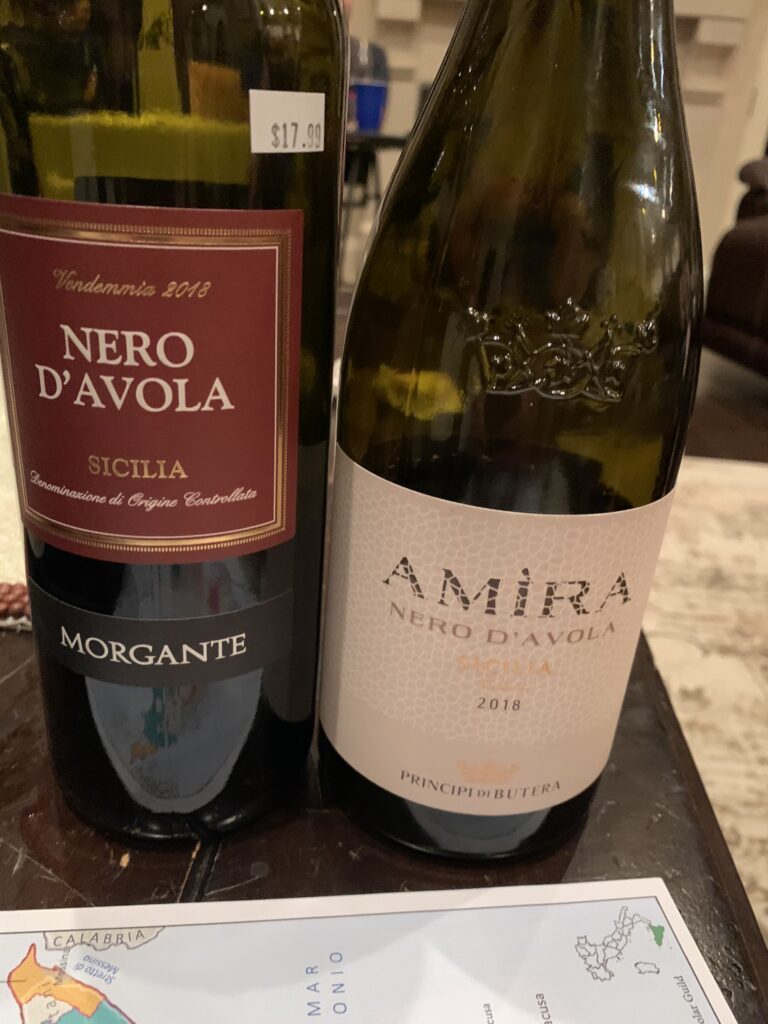 2018 MORGANTE, NERO D'AVOLA: ($18)
The estate is located in southern Sicily, near the Vittoria appellation. The Morgante family, active in viniculture for generations, have begun vinifying vinify their grapes since 1994. This was another big, bold wine, dark colored, with a blackberry nose and high extraction fruit, acidity that started at mid palate and carried through the finish. Tannins were soft.
2018 AMIRA, NERO D'AVOLA, PRINCIPI DE BUTERA: ($19)
Hailing from the Riesi appellation in southeastern Sicily, this ancient estate, recently modernized, makes principally Nero D'Avola and various international varietals. The wine may have been a bit corked. It had a slight cardboard nose, it was very tannic and off balance.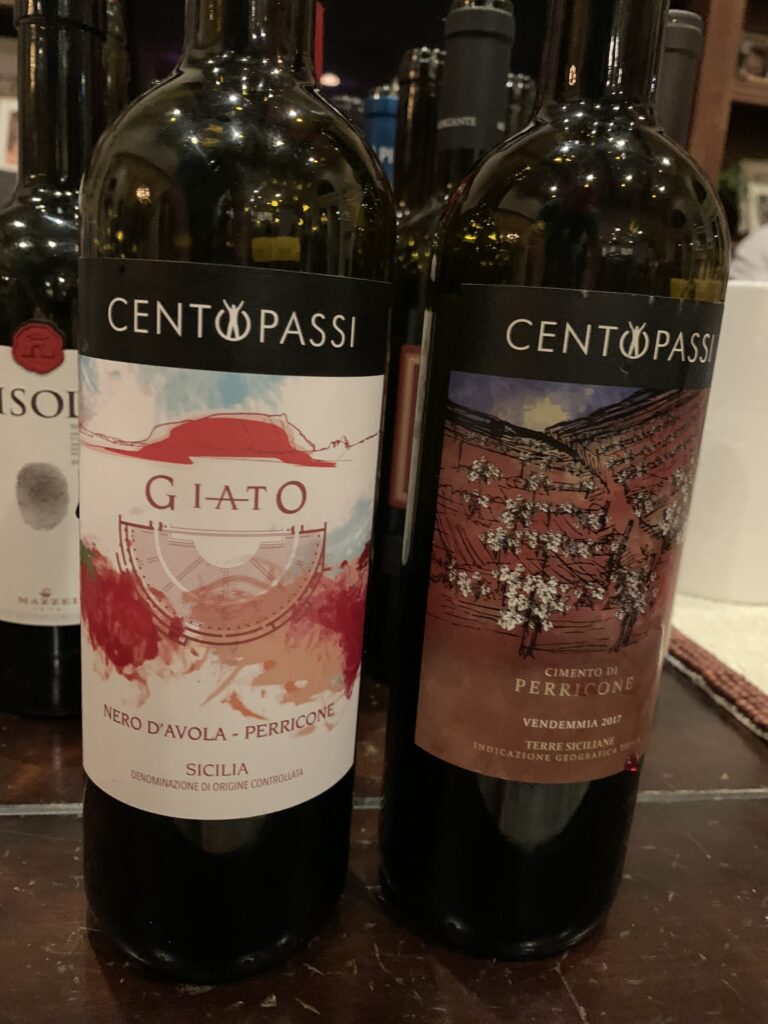 2020 CENTOPASSI, GIATO: ($17)
Centopassi is the winemaking branch of a cooperative named Terra Libra that cultivate lands near Corleone, seized from the Mafia. The vineyards are in Upper Belice Corleonese. This wine was a Nero D'Avola- Perricone blend. Its small berry nose created an expectation of a light wine. In fact it was quite big, with lots of fruit, acid and a big finish.
2017 CENTOPASSI, CIMENTO DI PERRICONE: ($17)
Another wine from the Centopassi cooperative, this wine is 100% Perricone. Perricone is a relatively obscure varietal used mainly for blending with Nero D'Avola. A pure Perricone is unusual. The wine was lighter bodied and more smoothly textured than the predecessors, partly because of its age. It featured prominent spiciness in mid palate and lots of acidity in the finish.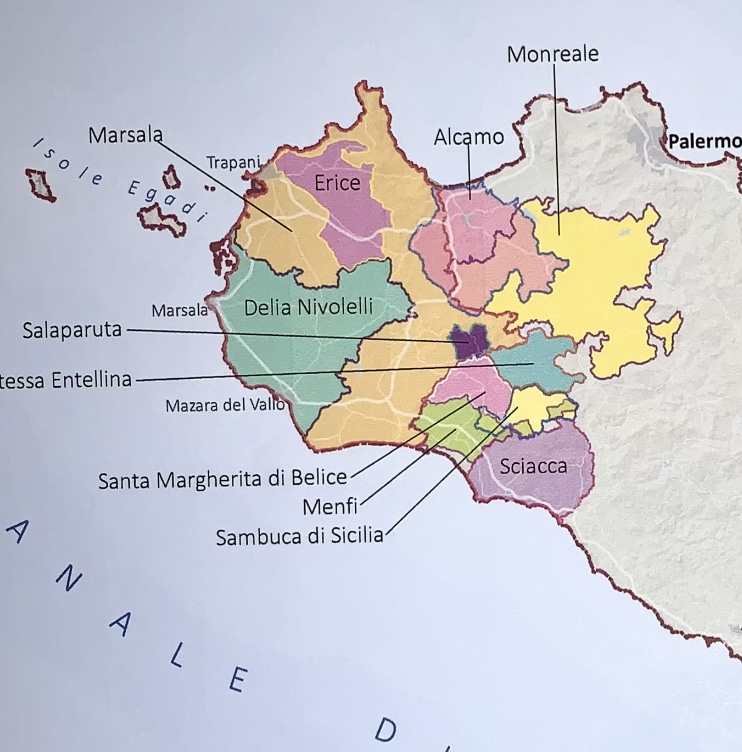 We finished with a dessert wine, the famed Marsala of Sicily.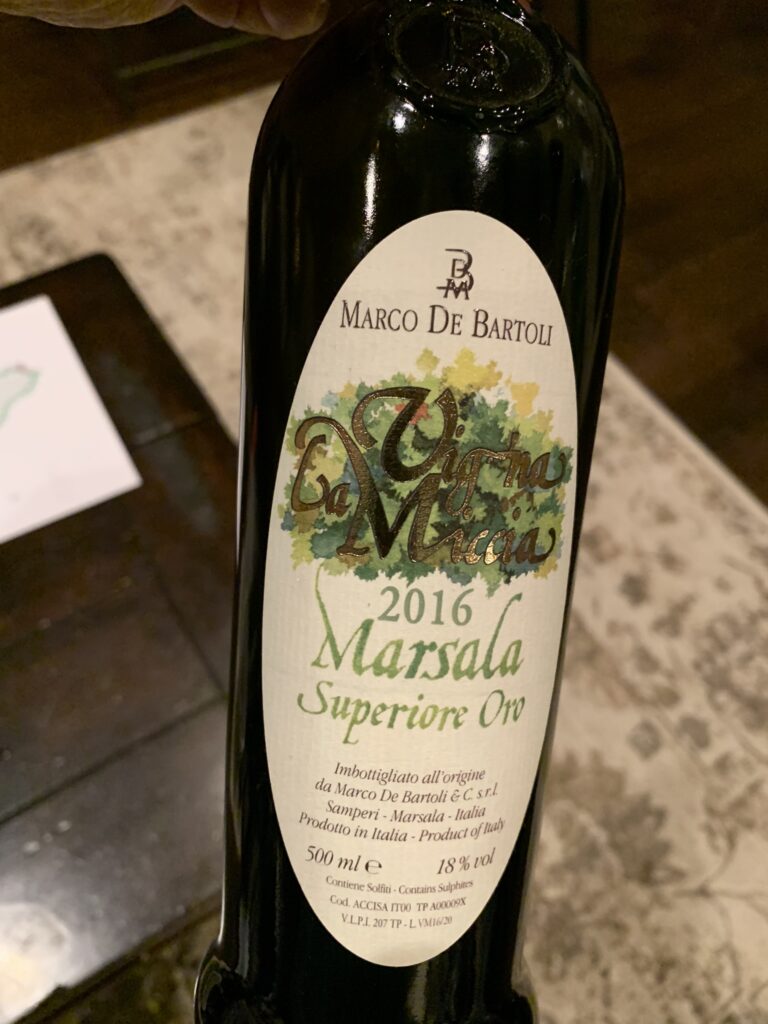 2016 MARSALA SUPERIORE ORO, MARCO DE BARTOLI:
Marsala is a fortified wine made in Sicily, commonly used in cooking. It is made with the Grillo grape varietal. Marsala has an illustrious history that dates back to the 1700s particularly with the British who were enamored by it. By the 1960s cheap, poor quality Marsala flooded the market and the wine became mainly a cooking sauce.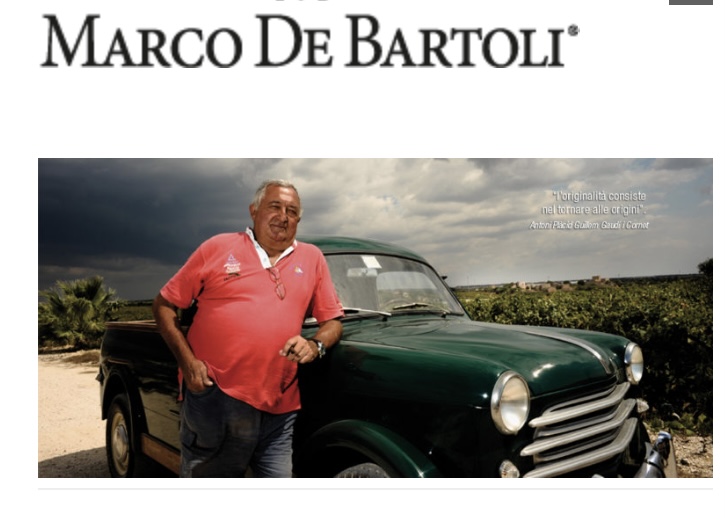 Marco De Bartoli has been singlehandedly resurrecting Marsala back to its rightful place among the fine fortified wines of the world.
Marsala has a nose and palate experience similar to Madeira. This one was amber in color, had a Madeira-like nose, and a thick, creamy texture. It was sweet, with flavors of apricot, vanilla and brown sugar. It had a long finish. It was a very nice wine.
We ended the tasting impressed with the array of styles Sicily offers, ready to try more in the future.