This man, John Fox was recently convicted of running a $ 45 million Ponzi scheme that defrauded 9000 people. He was sentenced to six and a half years in prison. So what? In the aftermath of Bernie Madoff ($ 36 billion) and Allen Stanford ($ 7 billion), Mr. Fox's scam is chump change. Except that Fox did not engage in securities fraud. He did it with wine.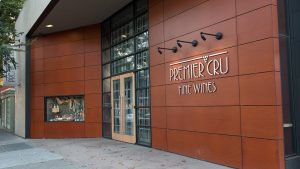 Fox was owner of Premier Cru, a once swank, now defunct Berkeley wine shop that I visited in the 1990s as a novice in the wine world.
It used to be in Oakland those days, an uppity place that specialized in Burgundies, with a haughty staff, demeaning to ignoramus customers like me. Their attitude was well known. What I didn't know was that Premiere Cru had a reputation for offering wine at surprisingly cheap prices in the
en primeur
market. Fox accomplished his con in this rather arcane market known only to serious collectors and speculators.
En primeur
, (translates roughly as,
at first
) is a custom that originated in France. It refers to a futures market in wines, offered to buyers before their general release to the open market. In the English speaking world such wines are advertised as
Futures
or
Pre Arrivals
.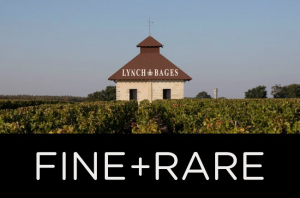 The en primeur market has been very active in Bordeaux for centuries. Nowadays pre-release offers also exist for select wines from Burgundy and Rhone as well as some from Italy, Spain and California. These wines all share the same characteristics: rarity and exclusivity. They are made in limited quantities and are in high demand, therefore expensive.
There are two advantages to buyers who commit money to
en primeur
purchases. They can lock in a batch of rare wine before it is quickly sold out, and they hopefully pay a better price for them than after their release. Many who engage in this market are speculators who use wine the same way as stocks and bonds, hoping that they will appreciate in time.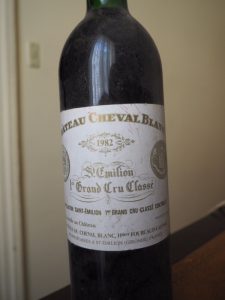 Sometimes this happens to a spectacular degree. For example a 1982 Chateau Cheval Blanc, a Right Bank Bordeaux from St. Emillion sold for $350-450 in the
en primeur
market in 1983. In 1999 the same bottle fetched $ 9500, nearly twenty-times appreciation in seventeen years.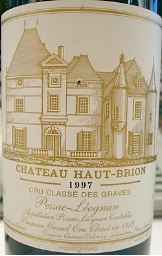 This is not always the case, especially in lesser vintages. The 1997 Chateau Haut-Brion, a First Growth in high demand, fetched the same price in 2003 as it did on pre-release. Nowadays its price has doubled. Still a good investment, but not as stellar as the '82 Cheval Blanc.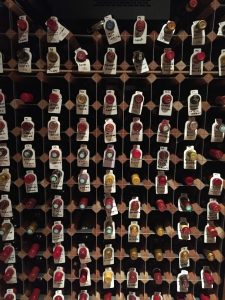 Speculation aside, for collectors like me, the en primeur market does offer a genuine opportunity to buy at bargain prices. Most of my Bordeaux collection, some 450 bottles, was acquired this way. Whether they appreciate or not does not make much difference, for I intend to drink my bottles, not sell them.
Regardless of their intentions, buyers who commit money to such advance purchases take risk. To begin with, en primeur prices largely depend on proclamations made by pundits such as Robert Parker who sample the wine when it's immature. Their projected predictions as to how the wine will mature may not always be accurate.
When offered as Futures, the predictions are based on barrel samples. They will arrive years later. Pre Arrival offers are made on wine that has been bottled but not shipped. Quality predictions may therefore be somewhat more reliable. They arrive within several months.
In essence the futures buyer has spent significant sums on wine he/she will not see for months, maybe years, then age it for yet more years, sometimes decades. When uncorked, if the wine turns out to be no good, the buyer has little, if any, recourse.
Futures buyers must trust countless links in the chain of delivery, from the winemaker and distributor, to the local
en primeur
merchant, and once again, the pundits and reputation makers.

Surprisingly, the process somehow works. In nearly two decades of buying Bordeaux in the futures market I have not been disappointed with my main merchant, Fine Wines of Stockton. George Heron, owner of the shop, is also a pundit.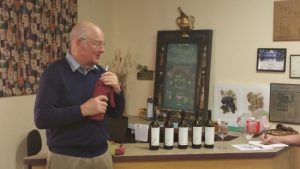 He visits Bordeaux every year and does the barrel tastings himself. His proclamations are often accurate and in line with those of internationally known figures. He offers attractive prices and delivers on time. Over the years, my wines have, by and large aged as predicted.
I've been fortunate.
John Fox offered futures at unrealistically low prices, 10-30% less than other vendors, for wine that he did not possess or could not deliver. Many who rushed into his bargains headlong, some with six figure dollar sums, discovered significant delivery delays or no deliveries at all. Many complained. Some sued.
Eventually it turned out that Fox was diverting his
en primeur
advances to personal expenses such as mortgage, fancy cars and, believe it or not, $900,000 to women he met on the internet. He bought and delivered wine to prior customers with money he took from new ones. It was in essence a Ponzi scheme, but with wine. As with Madoff's, it collapsed amid the Great Recession when new money dried up.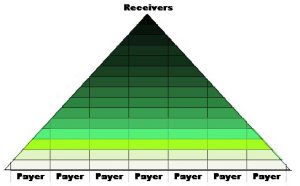 As part of his punishment Fox has to make $45 million restitution to those whom he defrauded. While some victims may receive money back, they will never recover from the disappointment of not owning wines they cherished or anticipated.
It's all yet another example of how the sophisticated can be fooled. Fox's futures were too good to be true. Falling for his promises was his customers' folly.