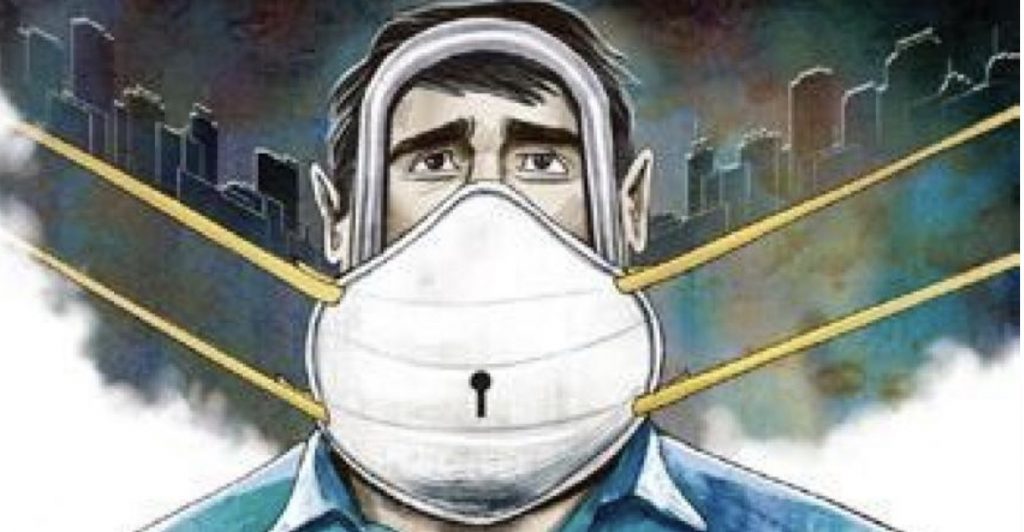 Since the onset of the Covid lockdown in mid-March 2020, wine tasting as we previously knew it, disappeared. Gone were our weekly Friday night wine groups at Wine Wizard's, the monthly tasting group at Dr. Heron's house and visits to nearby wineries. 
As we now contemplate inching back toward a reopening, we experimented with a socially distant, contagion resistant wine tasting. We came up with new routines that adapted to the circumstances. Here's how it went.
We met outdoors rather than the narrow indoor confines of past tastings. It was held in a spacious backyard. We did it early, at 5 p.m., rather than 10 p.m., our prior tasting time. It was not a free-for-all, whoever-comes-is-welcome affair. The participants were limited to just three couples.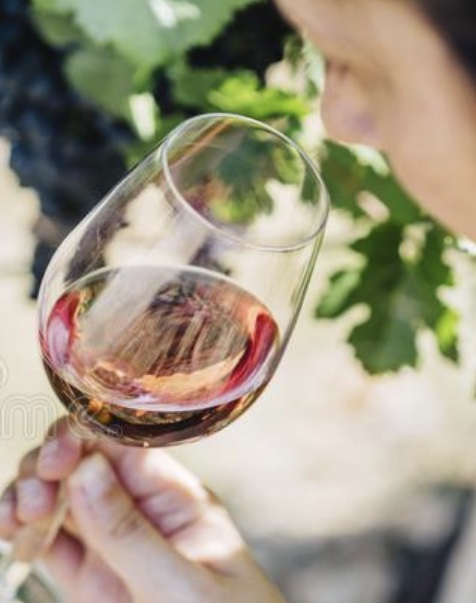 Our host set up three separate sitting spots amid two different tables, thus distancing the couples. Each couple brought two bottles of wine, concealed – that part remained the same as in Friday nights, for we still planned to play a guessing game.
Unlike prior tastings where the host provided the accessories, each couple brought their own glasses, spit cups etc. A new accessory that appeared amid the wine bottles was a container of sanitary wipes. We used these liberally.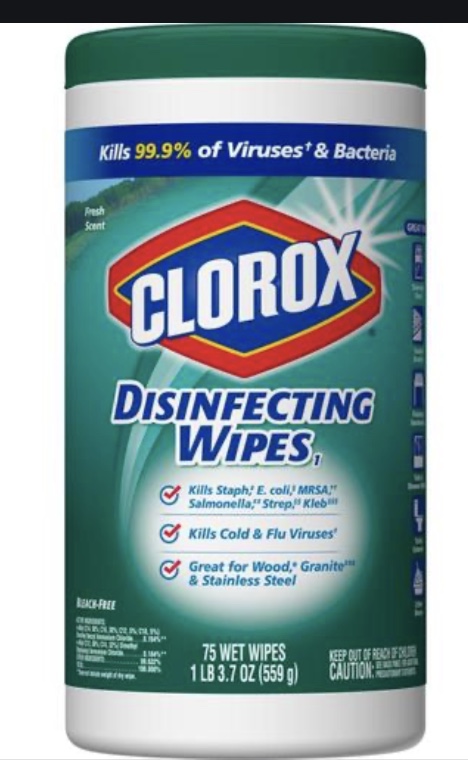 The wine bottles did not pass from one hand to another. Whoever brought the bottle served a pour to each participant, keeping well clear of them.
The tasting itself went as usual. We tasted, we conversed about this and that while commenting on the wines. We tried to guess what they were.
Lessons learned:
Six bottles was just right: Appreciating and remembering ten, twelve, sometimes eighteen bottles in a single tasting is tough. Such large tastings also pressure the group to proceed at a fast pace, especially in late night tastings. We went at a leisurely pace and truly appreciated the wines.
Our guessing palates had gone a bit rusty: We did not guess with as much precision as prior to the lockdown. Nevertheless, we did not lose our ability to identify the basic describers such as nose, balance, fruit, acidity, finish etc.
Interesting coincidences, one of the delightful aspects of random bottle, BYOB tastings, still occurred. We had two.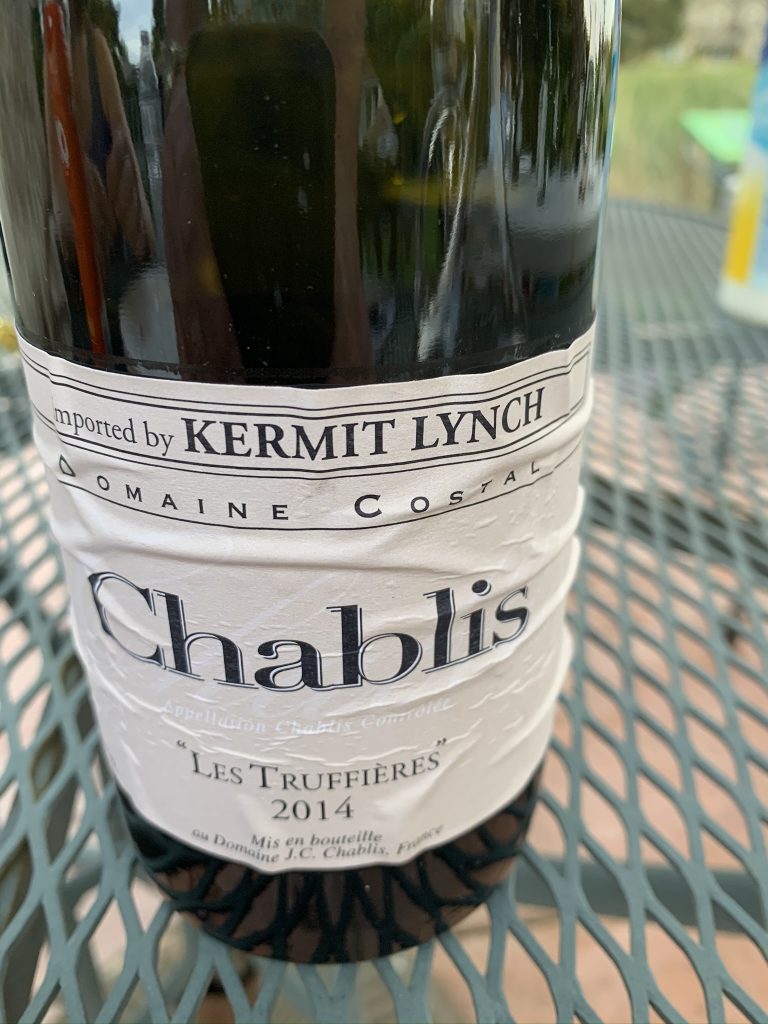 One was a couple of French Chardonnays that were flip-sides of each other in style. The 2014 Chablis Les Truffières was classic Old World in style, with a prominently citrusy character.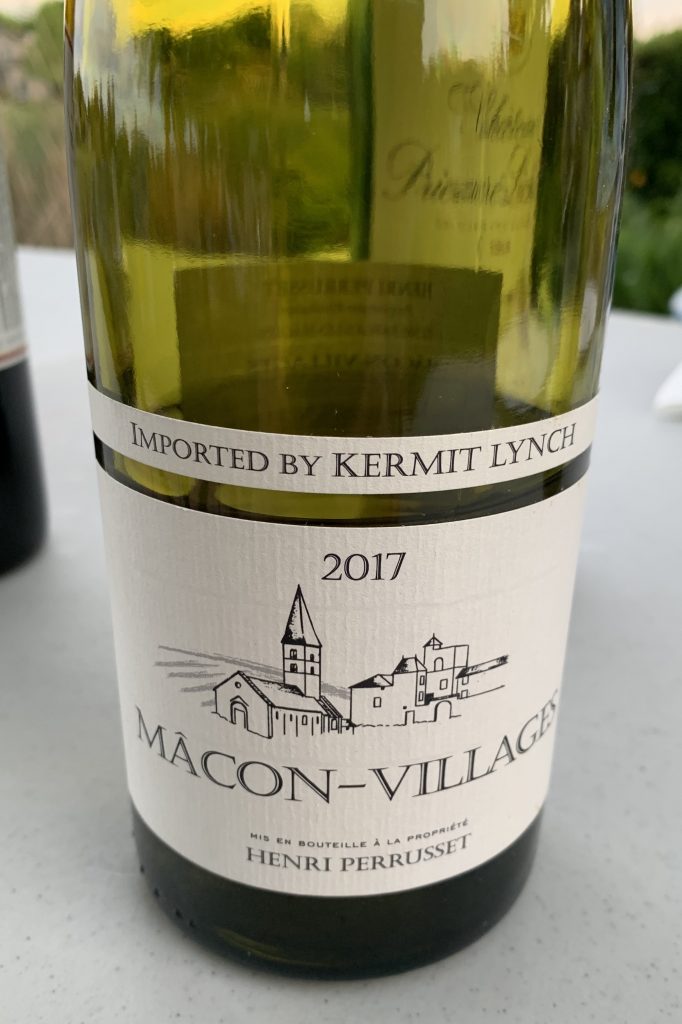 The 2017 Macon-Village Domaine Perrusset was more of a hybrid style, tasting like a New World wine, with some body, slight sweetness and tropical fruit characters. The two bottles were yin & yang, and back to back, they gave us an appreciation for the stylistic range of white Burgundy.
The other inadvertent coupling was much more interesting: Two Bordeaux wines from the same vintage: 1996.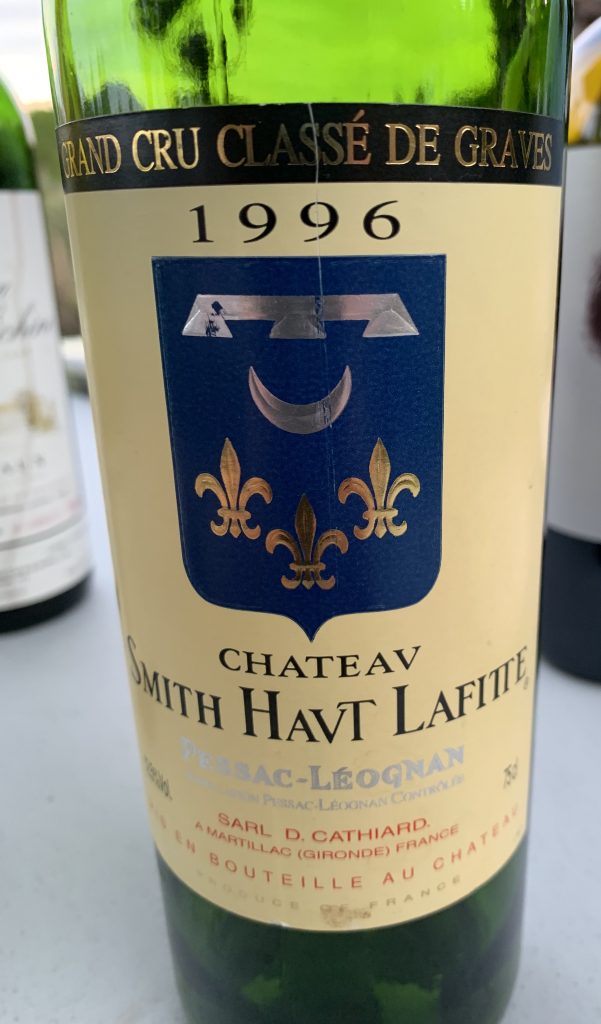 The Chateau Smith Haut-Lafite from Passac-Leognan was a typical old Bordeaux, with lighter fruit, high acidity and hints of dried leaves such as tobacco and tea leaves. The Prieurié-Lichine form Margaux was a muscular, fruity wine that, despite its quarter century of age, still tasted young and tight. Same year; what a difference!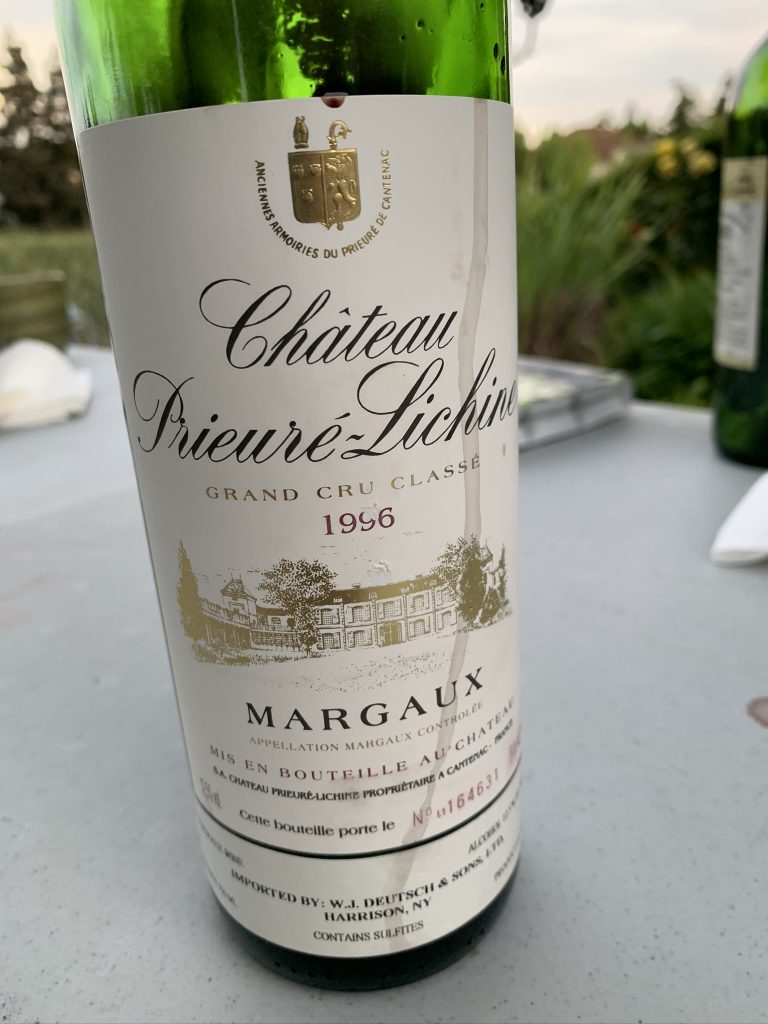 Incidentally the big fruit and youthful character of the Prieurié-Lichine, in my experience, is more typical of the 1996 vintage.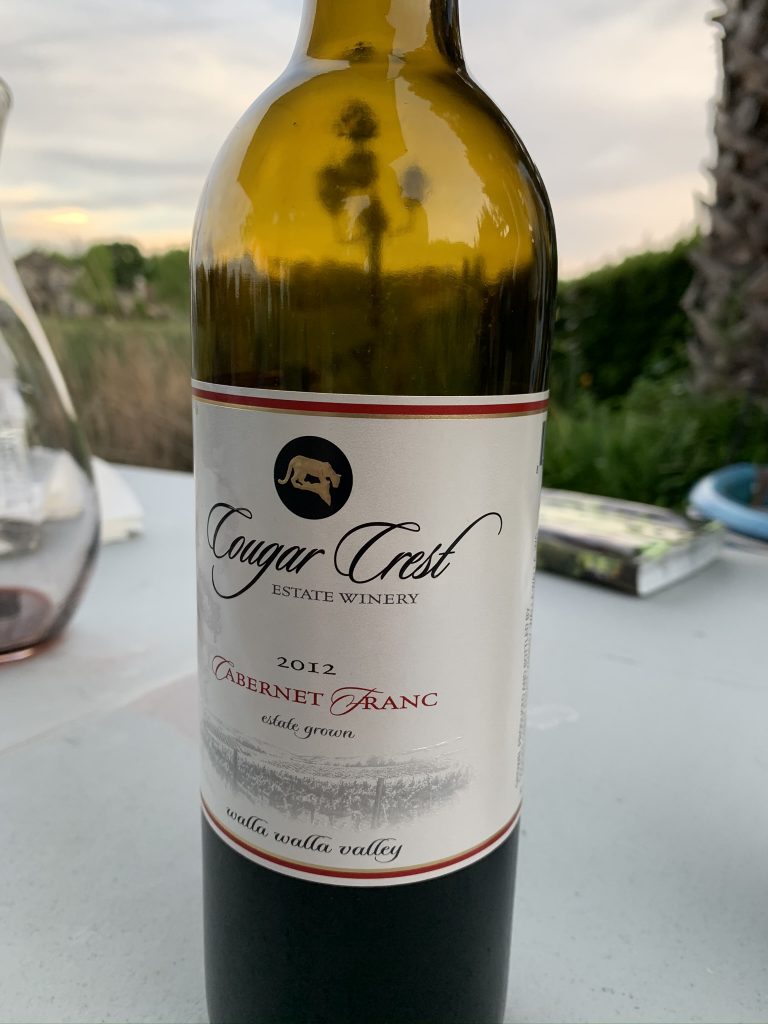 We were more forgiving of "defects". In our usual tastings we are viciously critical of stylistic "defects" that the group collectively dislikes. Foremost among these is oak. The Couger Crest Cabernet Franc from Walla Walla, Washington was light in fruit, with good mid and late palate acidity, mild tannins and a decent balance. Yet it had prominent oak in the finish that rose in a crescendo. Ordinarily we would have dissed this wine badly. Instead we appreciated its good, and forgave its bad.
The group also dislikes overly extracted, high fruit, high alcohol wines. The El Goru, a Spanish wine from Jumilla (near Valencia – a hot region), made of a Monastrell, Syrah and Petite Verdot blend, was such a wine. We nonetheless decided that these features were not too exaggerated and gave it a thumbs-up.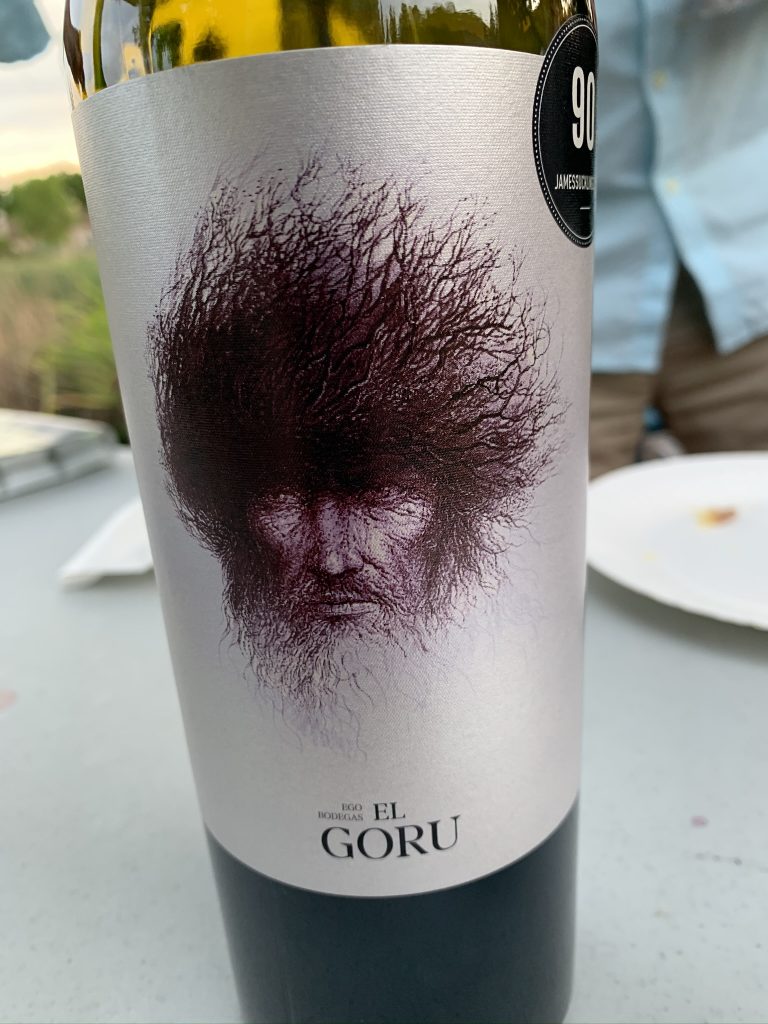 Maybe it was the outdoors setting. More likely, it was our relief and delight at being able to taste again, with real live friends – not virtual ones in Zoom – that created a new spirit of tolerance and appreciation.
We are likely to arrange more such tastings cautiously. Who knows, maybe another after-effect of Coronavirus will be a deflation of our snobbishness.