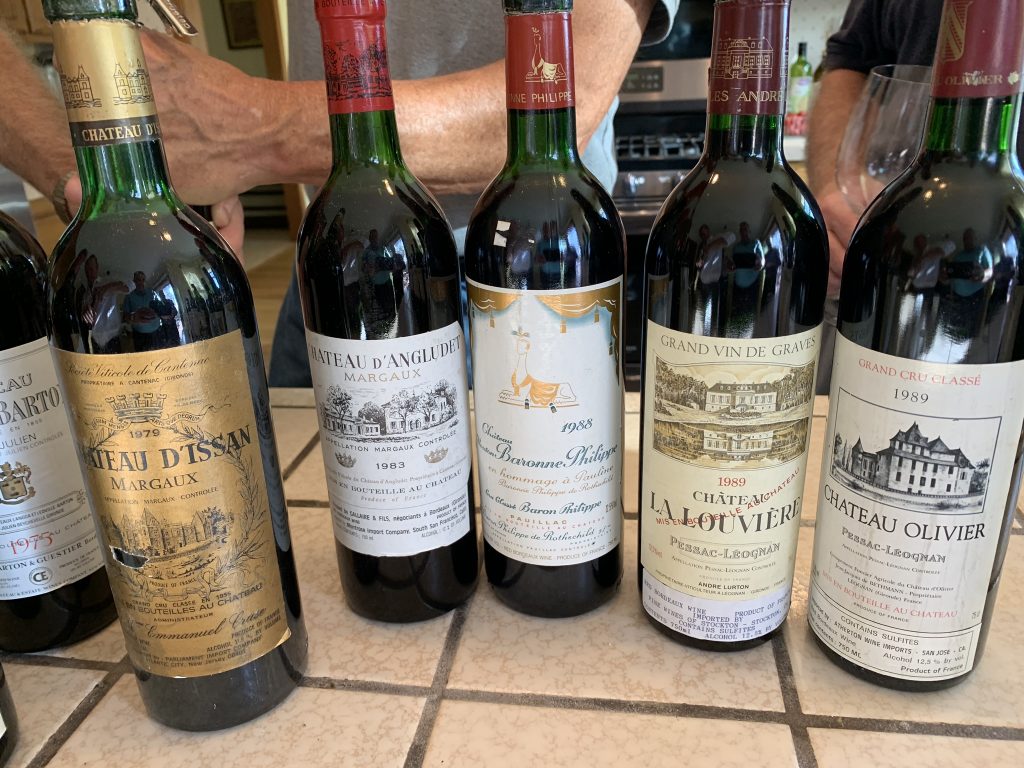 A friend of ours, Jim Stephen, member of our Friday night tasting group, has perfected the art of buying on auction at prices that don't break the bank. He collects old wines, very old wines, mostly Bordeaux. Every so often he generously opens a group of such bottles for us to sample.
We had such a tasting of fifteen bottles in September 2019. The vintages ranged from 1964 to 1999, an age range of 20 to 55 years.
There was no particular theme to the array. There were good and bad vintages, and highly touted and lowly labels.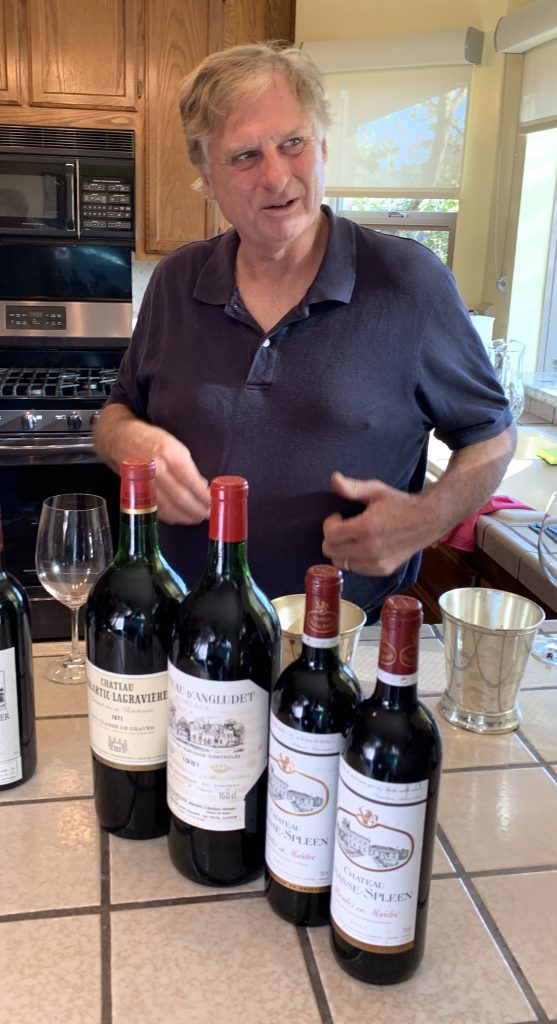 STRATEGY:
The ideal strategy of tasting really old wines is to do it with a timer and note the changes in the wine as exposure to oxygen takes its toll on them. Such wines decay fast, dead in 30 minutes or less. Thus a disciplined tasting, straight out of the bottle, at 10 minutes, 20 minutes, half hour and so on, can reveal that fleeting sweet spot when the wine shows its best.
Such a strategy works well with a few bottles. But with fifteen it's impossible. Our group chose to line up the bottles in chronological order and taste them one by one, straight out of the bottle. None were decanted.
With tasting notes and discussion, the array took over an hour to taste. I did attempt a second round and discovered that most were already lost or nearly so, and with a tired palate, I gave up.
Needless to say, for those serious tasters it helps to spit so that one's memory and judgement is not contaminated with inebriation.
The tasting was held in Jim's kitchen with various cheeses and hors d'oeuvres around. It is imperative to refrain from eating food between tastings, with the exception of an occasional morsel of bread to refresh the palate. Food alters the palate and makes a comparative tasting invalid.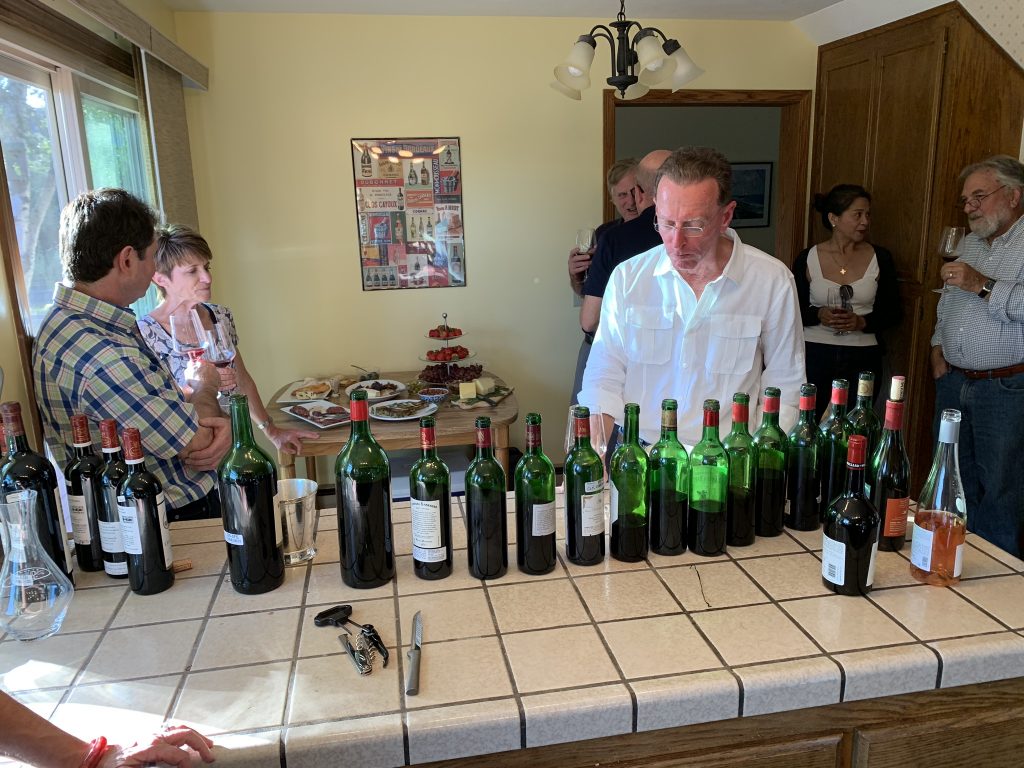 THE LINE UP:
For those interested. I provided raw tasting notes below. It is hard to make sense of raw tasting notes with such a diverse line up of wines. The main lessons I learned are next.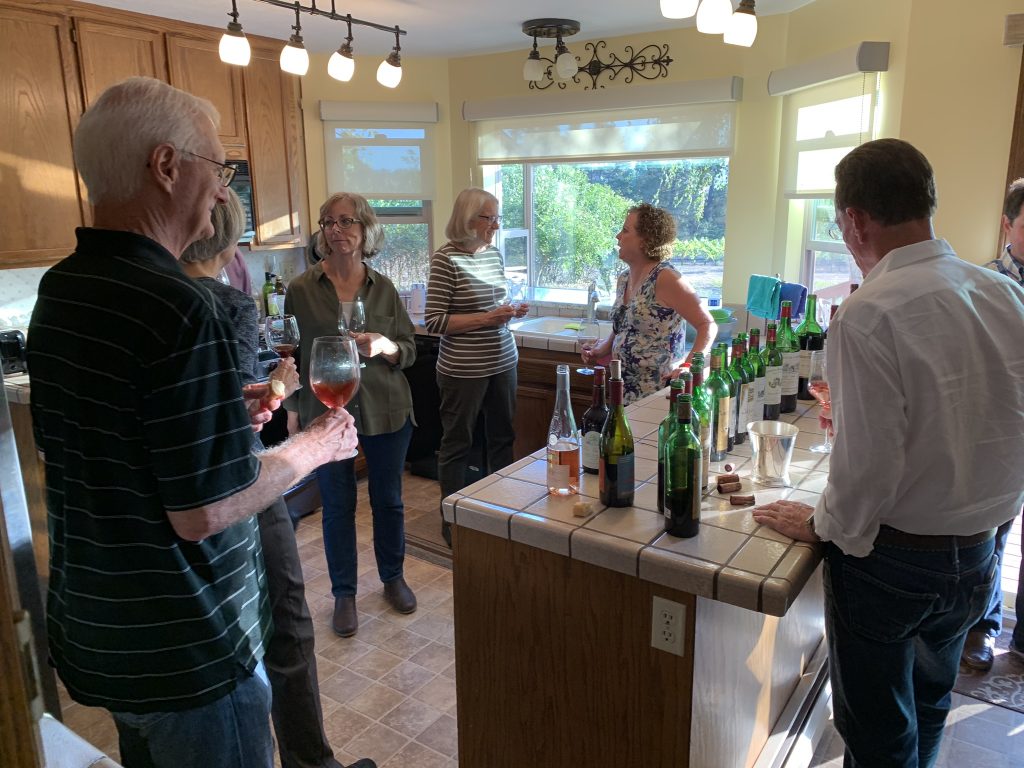 LESSONS LEARNED:
One has to judge such old wines within a certain reference frame. The known reputation of the vintages, appellations and labels forms such a foundation. Did time prove the wine pundits right or wrong?
As you might guess, the answer was mixed, sometimes yes, sometimes no.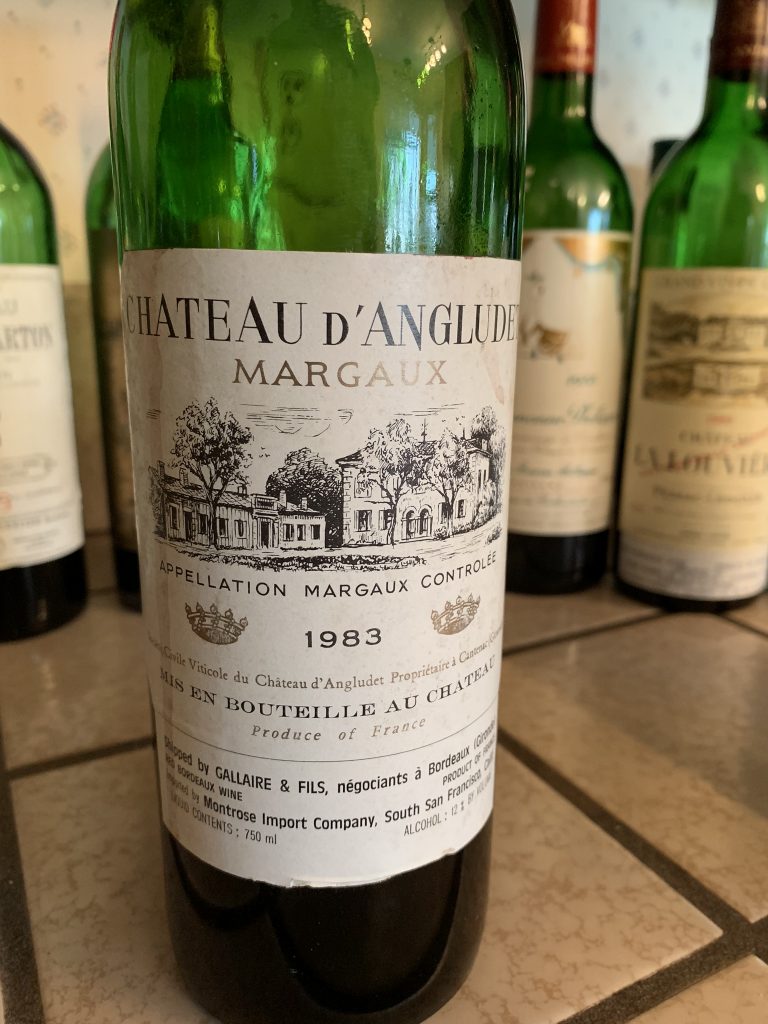 In this tasting, the wine that exceeded all expectations was, without doubt the 1983 Chateau D'Angludet. This label is not included in the exalted 1855 classification. It is considered a lesser Bordeaux of decent quality, usually a good bargain. 1983 was a bad vintage. An excessively rainy season, it was much maligned by the pundits. Yet this lowly label from an off-year showed very well 36 years later. I called it the Cinderella in the bunch.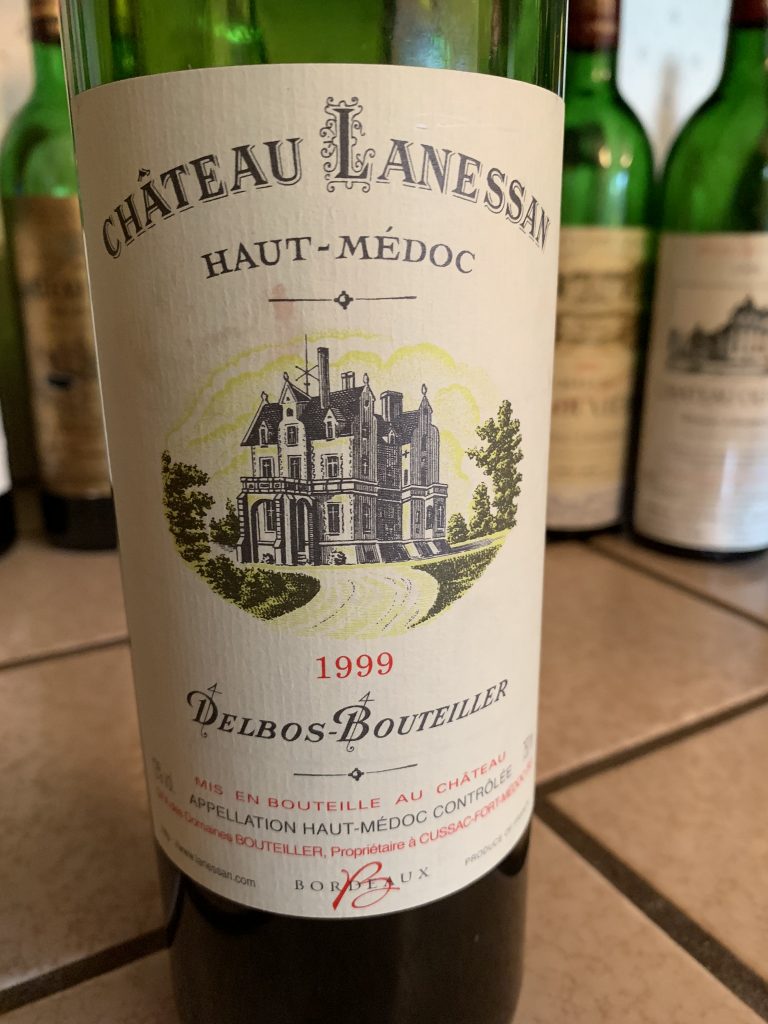 Another lowly label that did well was the 1999 Lanessan. This non-cru classe wine retails for less than $20. Considered a decent bargain and an immediate drinker, it is not expected to hold up long. At 20 years the wine was doing amazingly well, but it was a simple drink nonetheless. It suffered from being in better company. Had we tasted it by itself, it would have left a stronger impression.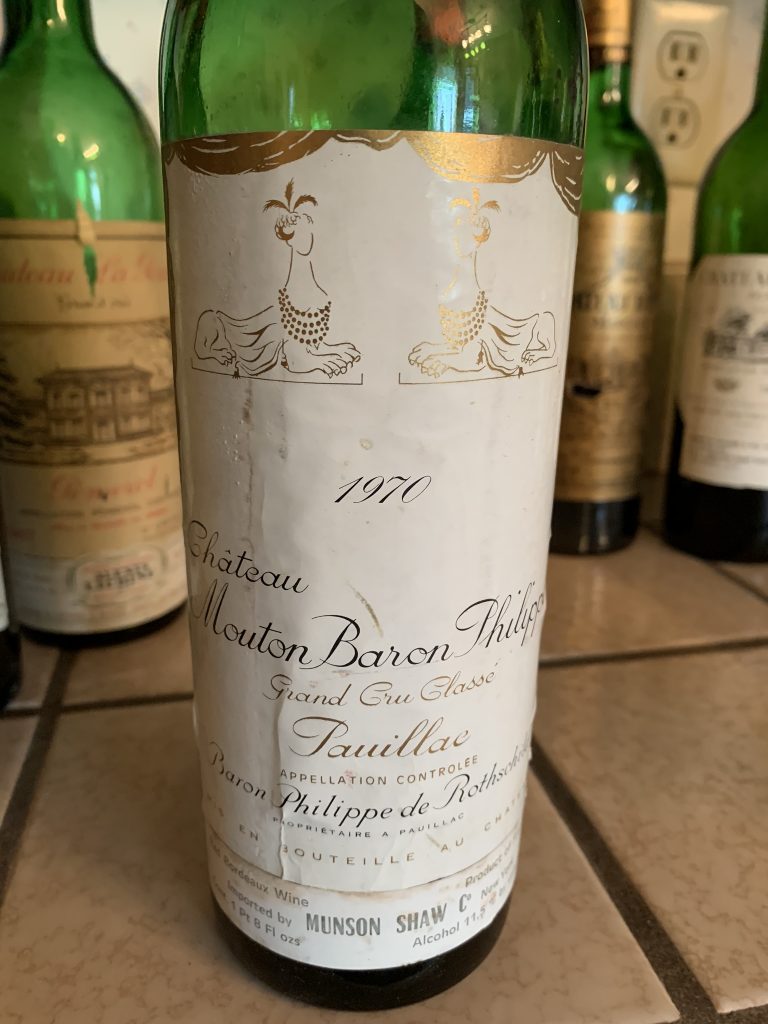 On the flip side, a somewhat better regarded label from a good vintage did indeed prove the pundits right. The 1970 Chateau Mouton Baron Philippe, a Fifth Growth in the 1855 classification, was alive and well at 49  years of age. Nowadays this wine is known as Chateau d'Armailhac, having changed its name in 1989. Thee experience was in keeping with the well known adage that well regarded Bordeaux from an exceptional vintage can have long term staying power, in the order of many decades.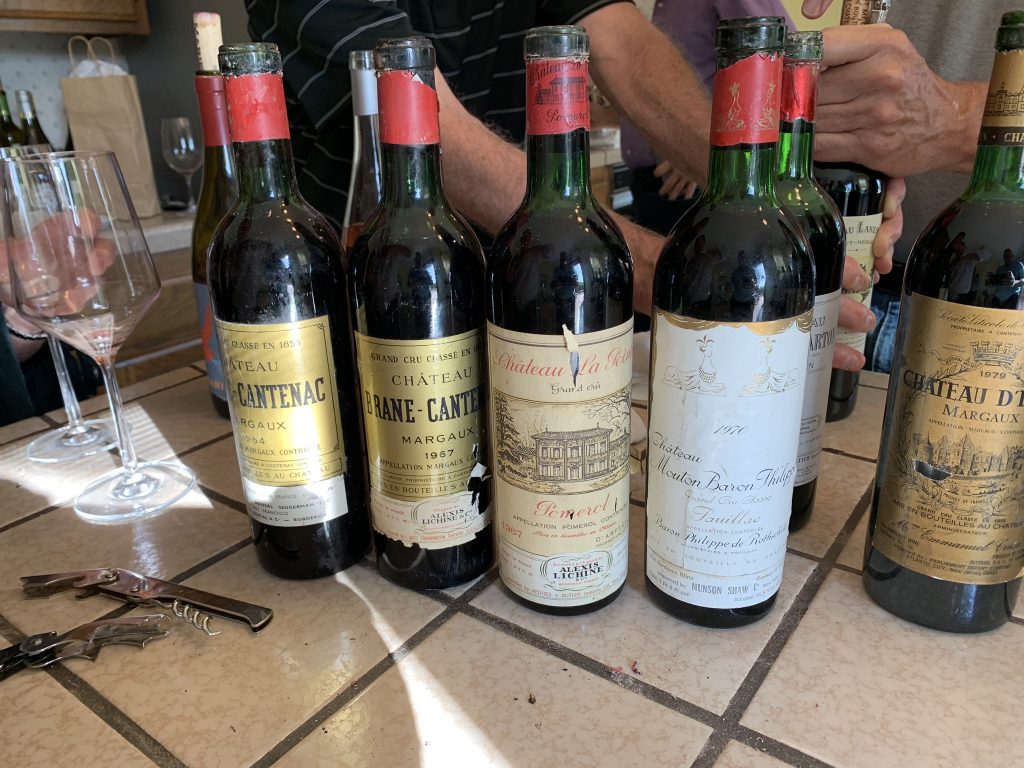 When we get to ultra-old wines, in this case the ones from the 1960s, we don't expect much more than some signs of life. We have to accept that they will be murky and discolored, and that they will have tanky old noses. We don't expect lively upfront fruit. What we do expect is some hint of structure, preferably of reasonable complexity, and some remnant of fruit with older flavors. In other words we expect the skeleton of the wine, its fruit, acidity and tannins to somehow still be standing.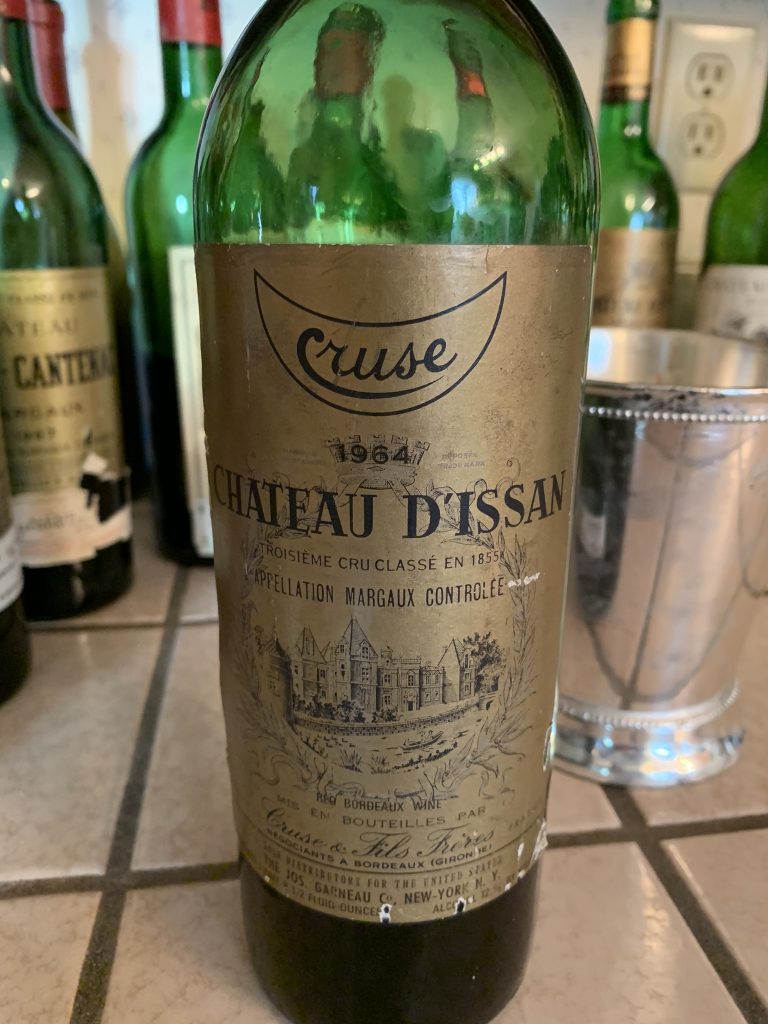 Based on those expectations the 1964s, now 55 years old, did well. The '64 Chateau D'Issan was particularly liked by the group.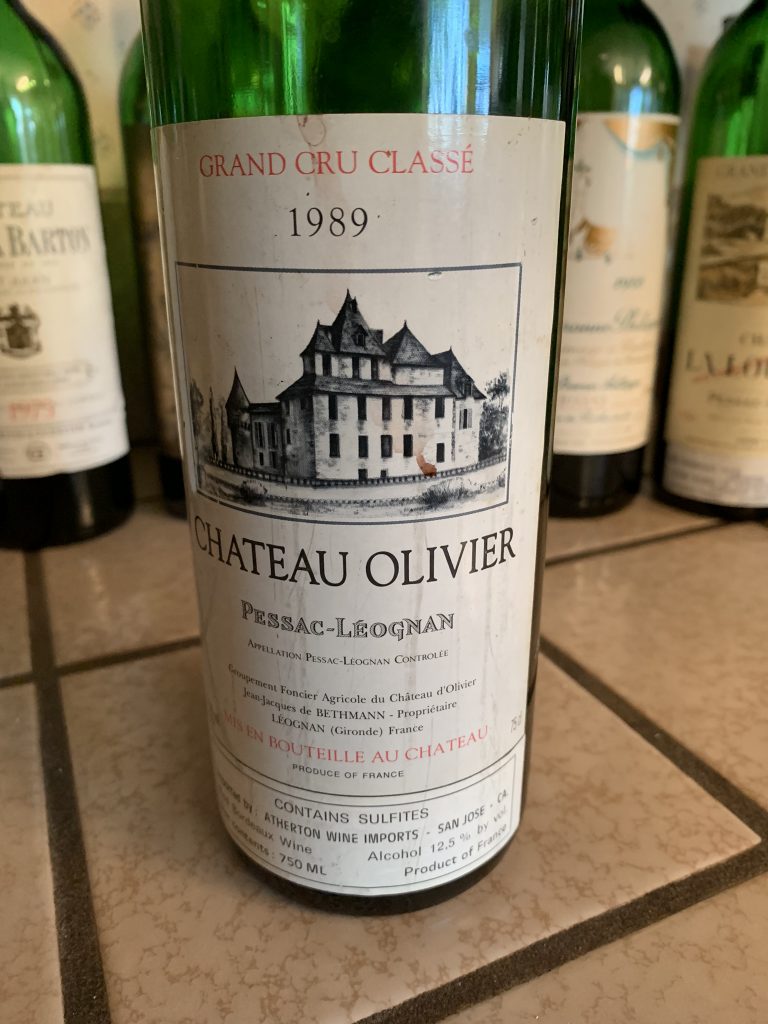 A word about reds from Passac-Leognan. This region, in the southern outreaches of Bordeaux, is better known for its whites. The reds are mostly inferior to their northern brethren in Medoc, Haut-Medoc and Right Bank. Thus it was interesting to experience the ravages of time in two Passac-Leognans from the same vintage, 1989. Considering that this was an excellent year, both Chateau Olivier and Chateau La Louviére made mediocre showings. No surprise.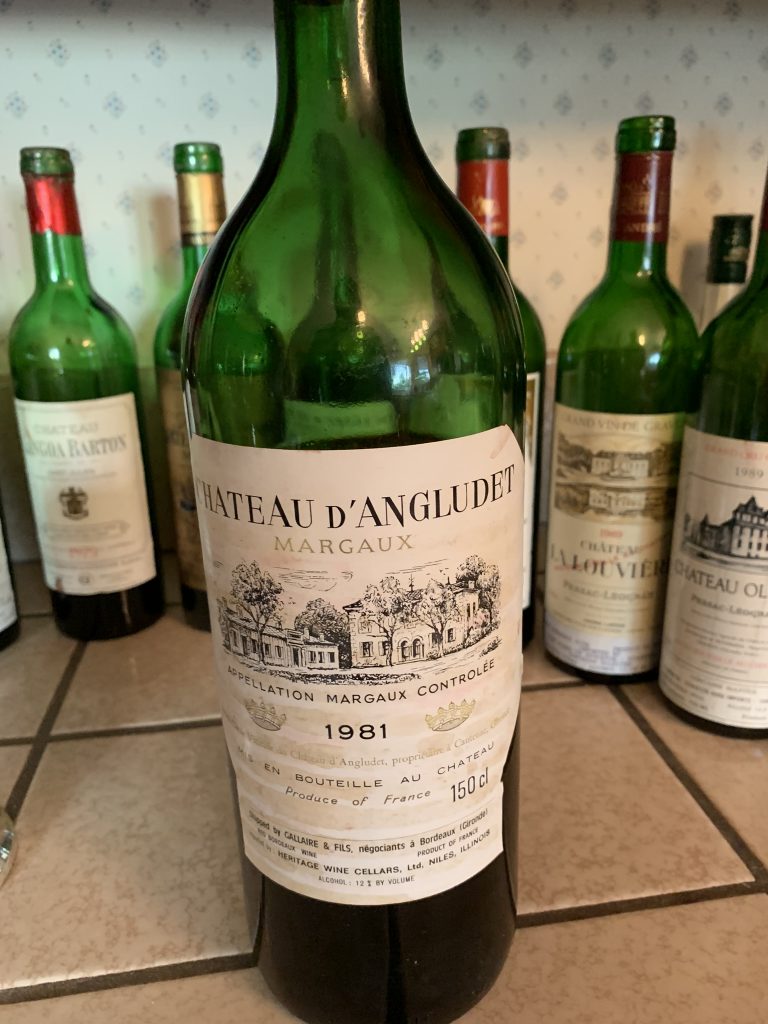 Finally a word about magnum bottlings. Larger format bottles ensure better preservation over time. However, that does not mean that older magnums will always be good. A case in point was the 1971 Chateau Malartic-Lagraviére. 1971 was a weak vintage. In all likelihood, so was the wine bottled into this magnum. Time can be cruel. The magnum bottling didn't help the wine with longevity. It should have been consumed much sooner, preferably within ten to fifteen years.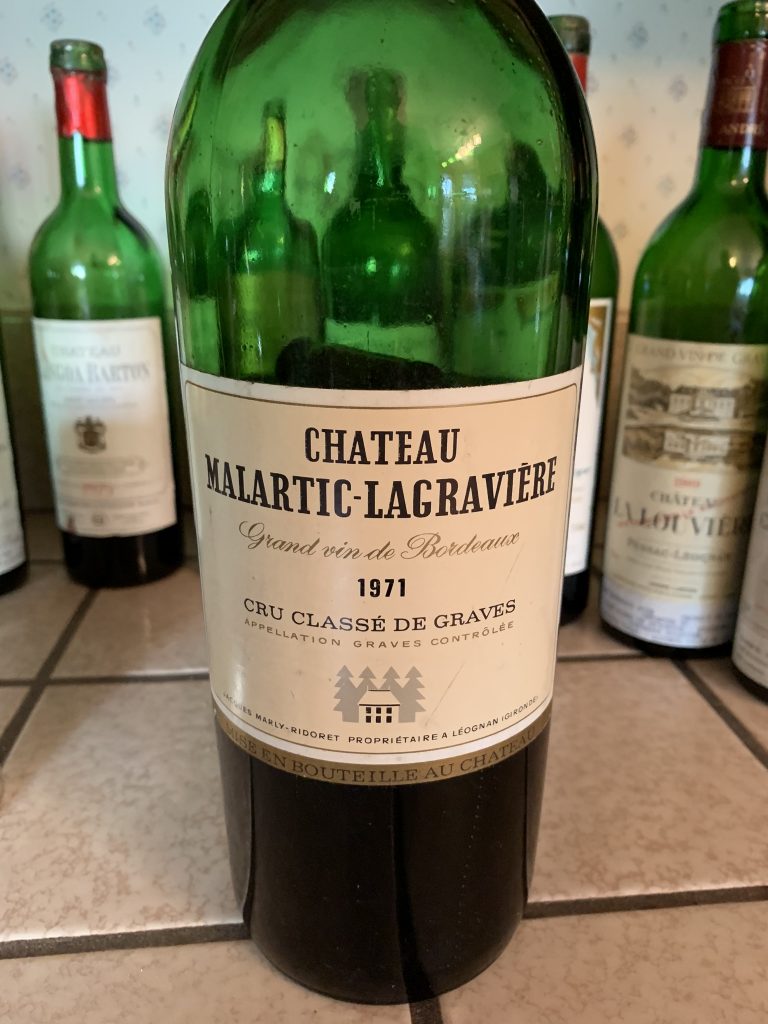 Many thanks to Jim Stephen for his steady contribution to our understanding of old Bordeaux.
TASTING NOTES:
750 ML BOTTLES:
1964 CH D'ISSAN, MARGAUX: Tanky nose. Murky. Tanky, old flavors but for a 55 year old wine, still alive. Olive tapenade finish. Group generally liked it.
1964 BRANE CANTENAC, MARGAUX: Clearer than the D'Issan. A subtle nose, tanky. Clean flavors, that don't taste old. Fruit is nearly gone. Skeletal. But pleasant.
1967 BRANE CANTENAC, MARGAUX: Color old, but clear. Tanky nose. Spicy. Good acidity. Hanging together well.
1967 LA POINTE, POMEROL: Tankiest nose of all. Murky. However, surprisingly smooth texture on palate. A good deal of complexity, some fruit, spice & acid. Surprise!
1970 CH MOUTON, PAUILLAC: Clear. Nice, fruity nose. Typical Mouton acidity on palate. A long, complex wine. For a 49 year old wine still quite alive and well. Bravo!
1975 CH LANGUA BARTON, ST JULIEN: Clear. Tanky nose. Decent fruit on palate. Spicy in mid palate. Good finish, but a bit bretty.
1977 CH D'ISSAN, MARGAUX: Fruity nose with a bit of tankiness. Lean & acidic, also a bit tanky on palate. Soft tannins. Medium finish. Tannins stay on late.
1983 CH D'ANGLUDET, MARGAUX: This was the Cinderella in the bunch. Finally no tankiness. A decent, classic Bord'x nose. Supple upfront fruit. Clean mid palate. Decent acid in finish. Very nice. Considering that it is a lesser label, 36 years old, a very pleasant surprise.
1988 CH MOUTON, PAUILLAC: Very nice color. Nose tanky. Comparatively big upfront fruit. Good acid, good finish. Nose was off-putting but pretty good on the palate.
1989 CH LA LOUVIÉRE, PASSAC-LEOGNAN: Good color. Subtle nose. Clean upfront fruit. Short finish. A simple wine, not much complexity. But nevertheless, a good drink.
1989 CH OLIVIER, PASSAC- LEOGNAN: Good color. Subtle, tanky nose. Nice texture. Clean fruit. A bit more complex than the La Louviére.
NOTE: Both Passac-Leognans, same vintage, lacked much of a nose. There was a difference of opinion among the group as to which they liked better.
1999 CH LANESSAN, HAUT-MEDOC: No nose, good fruit, tannic. Not much else. A simple wine but a decent drink. Unfortunately for it, it was amid a more exalted company. Had we tasted it by itself, I suspect it would have showed better.
MAGNUMS:
1981 CH D'ANGLUDET, MARGAUX: Light color. Tanky nose. Not murky. Good fruit, good acidity, good complexity, long finish. A food friendly wine. Once again, the nose does not do it justice.
1971 CH MALARTIC-LAGRAVIÉRE, PASSAC-LEOGNAN: Starts with a tanky nose. On the palate, OMG!!Horrible. Off balance. My palate just got poisoned. Dump it!