Our first foray into the Anderson Valley, a remote appellation in the northernmost outreaches of California wine country, landed us in a time warp. We discovered a bucolic wine region full of rustic tasting rooms, minimal to no tasting charges, folksy staff and a generally earthy culture. We were delighted that such an area, reminiscent of Napa and Sonoma of decades past, still existed in California. Then, at the end of our day we came across a winery, Goldeneye, that to me, seemed like a rot upon the region, a harbinger of its spoilage.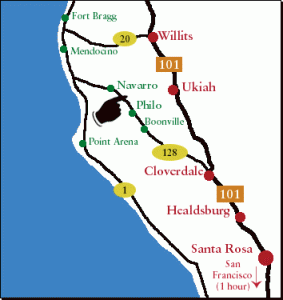 We drove out to Anderson Valley from Healdsburg on Highway 101 and exited north of Cloverdale onto Highway 128, the main drag through the valley. At first, 128 was a seemingly endless two-lane road, full of sharp zig-zags, in rugged, mountainous country. We were in the Yorkville Highlands and for nearly twenty miles there was no sign of civilization. With no maps and minimal prior research, we wondered if we would ever encounter the promised tasting rooms.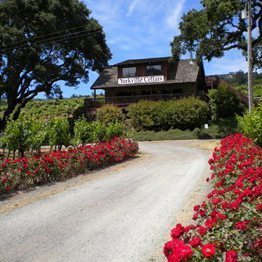 Restless and eager to taste, we pulled into the first winery we encountered in what was still a remote outpost. Yorkville Cellars was not in anyone's list of notable spots from this valley. Uncertain about how it would turn out, we were pleasantly surprised by a quirky, ponytailed host, stocky and bespectacled, humorous and hospitable. He introduced us to their numerous Bordeaux varietals.  The tasting was free for their basic flight and $12 for a group of single Bordeaux varietals.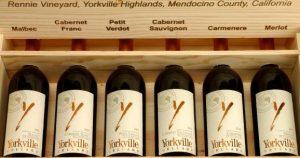 Yorkville Cellars boasted that it was the only winery in the entire world offering a full complement of Bordeaux grapes as single varietal bottlings. In business for nearly thirty years, farming organically before such practices were hip, the winery was clearly iconoclastic. Soon we were given a challenge, a guess the varietal game. Our host was clearly adept at this. He assembled two different flights of six varietals, one per couple,  shuffled two different ways, and he deftly kept track of them.
The wines, Merlot, Cabernet Sauvignon, Cabernet Franc, Carménere, Petite Verdot, and Malbec tasted nothing like their French, Chilean or Argentinian counterparts and we did poorly, guessing at best two of them correctly. But it didn't matter. The goal of the game was the game itself. We had fun and clearly, so did our host.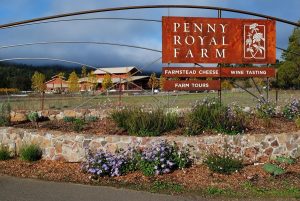 We moved deeper into the valley and in Boonville, stopped at Pennyroyal. It was not only a winery but also a cheese producer, sister winery to Navarro, deeper in the valley. The wines, Sauvignon Blanc, Chardonnay and various Pinot Noirs, were good but not great.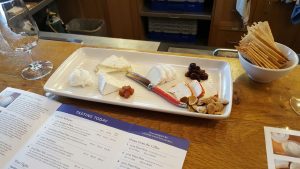 Their cheeses on the other hand, handcrafted from goat and sheep's milk, were amazing. We sampled Laychee, Bollie's Mollies, Velvet Sister and other oddly named cheeses from platters that included sweets and marcona almonds, accompanied with artisanal crackers. They rivalled such servings from the best Bay Area restaurants.
Farther along Highway 128, in Philo, we discovered Drew Winery, a small operation run by Jason Drew, winemaker, and his wife Molly, who poured for us. Judging from what we sampled, Jason Drew is a serious winemaker with a vision.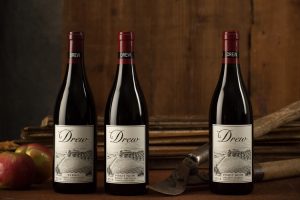 He successfully emulated French counterparts in Pinot Noir and Syrah, yet with a distinctly California touch. The wines were elegant, complex, spicy, fruit forward yet full off food friendly acidity . The tasting room, sparse but sophisticated, complemented the wines. Their Syrah could go head-to-head with any from the storied appellations of the Northern Rhone.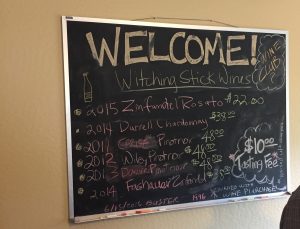 Thus wowed, we moved on to Witching Stick where a cheerful bartender behind a tiny bar was serving more tasters than he could keep up with, bumbling through a huge line up of eight bottles. He didn't seem to mind his predicament. We soon discovered why. After each pour for a guest, he poured a tasting for himself. He was more smashed than anyone else in the room.
The pinot noirs were Oregon-like, expressing the cool weather of Mendocino County. The remaining pours, Chardonnay, a Zin rosé and a Zinfandel were forgettable. In the meanwhile a chatty guest who had been visiting the valley for decades gave us an emphatic recommendation. "You have to visit Goldeneye," she said. Spectacular scenery, she raved, an elegant tasting.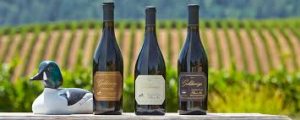 We took her advice and hastily backtracked to Goldeneye, not too far away. We discovered a smartly accoutered tasting room, its spacious outdoor patio overlooking a well groomed landscape. Beyond was a sea of vineyards stretching out to the mountains in the horizon. It was a carefully selected, impeccably architectured, obviously expensive place that clashed with everything else we'd seen that day.
The host was a formal, polite gentleman, well dressed and eloquent, also different than the quirky, rustic characters that populated the other tasting rooms. The tasting fee was $15, the highest in the area so far, and it was not refundable upon purchase of bottles. The wines, a Chardonnay and four Pinot Noirs were also very different than the lean, spicy, acidic, cool-weather style that seemed to prevail in the area. They were soft, sweet and oaky, and expensive.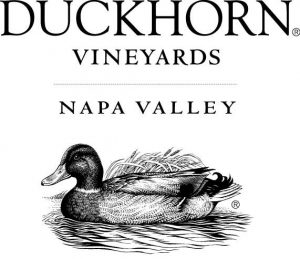 Goldeneye, we soon discovered, is owned by Duckhorn, a Napa Valley winery that was tapping into the lucrative Pinot Noir business with this outpost. In so doing Duckhorn had created a Napa colony in Anderson Valley, replete with features of Napa that we've come to dislike: high prices, snobbish attitude and much contrivance  in architecture not to mention winemaking.
We did a shared tasting, paid our fee and quietly departed back to Healdsburg with the realization that Napa had planted itself in this unspoiled valley. It would not be long before Goldeneye clones metastasized and swallowed up the locals.