Fine Wines of Stockton, a venerable wine shop, just closed down. Its owners George and Gail Heron decided to retire. This left us with only two other small wine vendors, Wine Wizard's and Mile Wine Company. Wine Wizard's owner Larry Johansen, also around retirement age, might be next.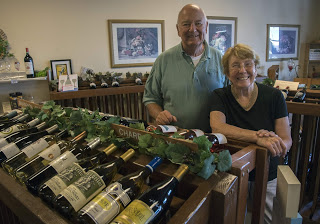 George & Gail Heron
Is there any room for new entrepreneurs to replace these establishments?
The question was posed to me by a young woman, manager of a restaurant we frequent, who is currently pursuing a career in nursing, her training arduous. Owning a wine shop appealed to her as a romantic alternative.
My answer was an unquestionable yes. There definitely is a need for small wine shops in any community, especially ours, located as we are near so many wine appellations. But can she succeed?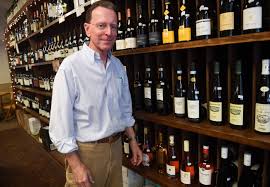 Larry Johansen
When I posed the question to Larry of Wine Wizard's his initial reaction was brief. "You have to be very familiar with wine," he said. Strange, since both he and George, decades old wine purveyors, began as amateurs. Larry pointed out a few novices who opened recent businesses, franchise stores with brief runs, as examples of wine dilettantes who failed.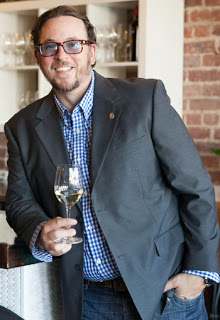 Paul Marsh
Paul Marsh, a more recent entrant, successful with Mile Wine, is a certified sommelier with significant prior experience in the wine business. His example proves Larry correct. Today's wine environment, more complex than decades past, requires experienced professionals.
While I do not profess to know business secrets of small wine shops, as a long-time buyer of wines I had some advice to the young lady interested in the wine business.
Not only does she have to know wine I told her, but more importantly, be passionate about it. George, Larry and Paul all are. It is the passion, the love of wine that drives these entrepreneurs through frequent troubles in their business. Otherwise it's easy to give up.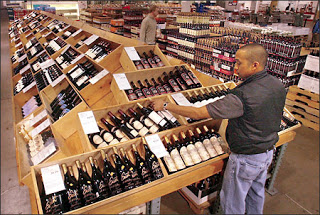 Costco wine display
Giant wine sellers such as Costco, K&L or internet vendors loom menacingly as competition. But they have their shortcomings. Their inventories cover a wide swath of the wine world but none in any depth. Also, they are either deficient in personalized service or they totally lack it.
The small wine shop owner needs to select one or more niche areas, present it in some detail, and do it well. She needs to acquire a reputation for a unique "point of view," as columnist Lettie Teague puts in an article highlighting a successful shop in Manhattan.
George Heron of Fine Wines found his forte in Bordeaux imports, Larry of Wine Wizard's in value wines from obscure European appellations and special Friday night dinners. Paul Marsh pursued a different route, his shop a wine bar with food and live entertainment. Teague's store in Manhattan, Chambers Street Wines, apparently specializes in a wide selection of unusual Loire Valley and Piedmont wines.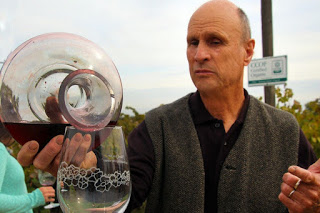 David Lucas
The Stockton purveyor has an advantage over stores in big Midwestern or Eastern cities. She can associate with local winemakers and feature not only their wines but them in person. Hobnobbing with winemakers holds a special appeal for customers. We have many in our vicinity. For example, David Lucas an emeritus winemaker in Lodi, can be commonly spotted at Wine Wizard's. Markus Niggli, a relative newcomer, talented and charismatic, has been within the orbit of Fine Wines and its aficionados.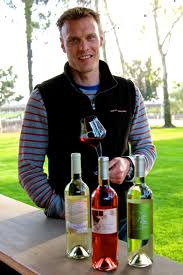 Markus Niggli
Buyers, novice or veteran, need their horizons expanded. Personally educating customers in one-on-one encounters is another crucial pre-requisite to success. Most wine shops do this through regular tastings. George Heron took this a notch higher and for many years conducted wine tasting lessons at the University of the Pacific. An entire generation of Stockton wine enthusiasts received their initiation in George's classes. His shop also held regular Thursday tastings, faithfully attended. So does Wine Wizard's, featuring mostly Kermit Lynch imports. Larry Johansen educates quietly, in his own, understated style. Paul Marsh of Mile Wine has his Sommelier Boot Camp series to edify customers.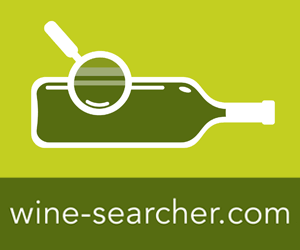 Lettie Teague mentioned that internet presence is helpful in promoting sales. In addition to a robust web site, she highlighted the importance of Winesearcher.com, which lists inventories from multiple vendors, connecting searches who seek specific labels with seller. In a populous area like Manhattan, Winesearcher not only helped directly with wine sales, but also indirectly by promoting foot traffic. However, it came at a stiff price, around $6500 a month. In a business with razor thin profit margins this was painful. In New York it turned out to be essential. After dropping Winesearcher for a while, the owners of Chambers Street had to re-enlist after noticing a drop in customers.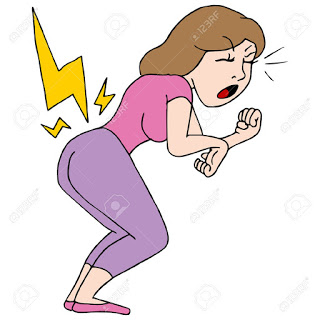 In addition to the natural ups and downs of any business, owning a small wine shop has other disadvantages. One has to repetitively bend and lift heavy cases of wine, a recipe for serious back problems. The hours are long, the weeks endless, and prime time on weekends filled with work.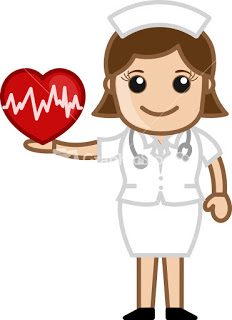 After a lengthy exchange with the young lady who asked me the question, I had one final comment. "You're better off with a career in nursing."
She smiled and nodded in agreement, her eyes dreamy. She already knew, but it was still nice to fantasize about owning a wine shop.