In a prior blog, I described our surprise discovery of a pair of talented chefs in the tiny Italian village of Colmurano. My wife Julie and I had stayed one night at Agritourismo Agra Mater, a country inn hotel I discovered by chance, owned by one of them, Lara Mancini. Afterwards we settled into Casa Tre Querce, a nearby villa that I had rented for a week, sharing it with our friends Archie and Alice Steele.
Lara and her younger associate Matteo Corradini graciously agreed to cook a catered dinner for us at the villa during our stay. Over the next few days Matteo, the only English speaker of the two, sent me various menu options by e mail and we agreed on a plan.
The villa had a small but decent kitchen. Still, Matteo and Lara had to bring many of their own pots and pans along with their food supplies. They arrived around six p.m., donned uniforms and promptly set to work, while the four of us sat at a nearby dining table sipping white wine, Verdicchio and Falanghina, throwing occasional curious glances at the kitchen.
Our first serving was an amuse bouche, a bruschetta of raw asparagus, hazelnuts and sesame seeds on homemade sourdough bread. The asparagus came from their garden. These simple, fresh ingredients, simply seasoned with cherry vinegar and olive oil came together as a superb combination of diverse flavors.
Next was fried artichoke hearts, also from their garden. I again eyed the kitchen as Matteo pan fried the partially pre-cooked hearts in olive oil, a few tender leaves still attached, while Lara assembled them onto an appealing presentation atop artichoke puree.
The dish turned out singular, with those leaves fried crisp, like potato chips, while the hearts remained soft and tender.
Our white wines accompanied these dishes well. For the next course however, I had asked Matteo to make a red selection, as he had done so deftly during our prior meal at Agra Mater. The dish was beef fillet, pan fried and served over pea sauce with fresh peas and fava beans sprinkled atop.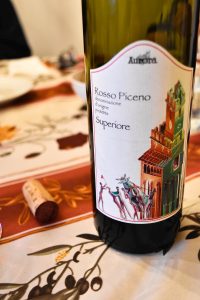 Matteo brought us a Rosso Piceno Superiore, local Montepulciano grape softened and rounded with Sangiovese. It was a good choice.
Beef in Europe is never as good as in the U.S. This dish was the best Europe could offer. The unusual accompaniment made for unique flavors. We made sure that every bite of meat had some pea sauce and raw vegetables on them.
Dessert was also unusual: almond milk brȗlée with fresh berries, almonds and mint atop. Pudding-like and only mildly sweet, it made a memorable finale, as understated as our talented chefs.
Afterwards we spent some time chatting with the pair. We were curious about why such talent resided in obscurity.
They were both locals who lived in Macerata, a town about thirty minutes away. Lara, the older of the two, had studied locally and worked in many restaurants in the area before buying Agra Mater in 2008. Soft spoken and shy, she was clearly a mentor to Matteo who, we were surprised to learn was only twenty four years old. He had gone to culinary school in Cingoli and spent some time in London, working at Harrod's and Four Seasons Park Lane, before returning home to join Lara.
London was too big, Matteo said. He preferred the peace and quiet of his bucolic home in Marche, cooking in a style he preferred rather than those required by the big city. Lara nodded in approval.
Their philosophy was pure farm-to-table. They grew their own fruits and vegetables, picked their own nuts, made their own bread, pastas and sauces. They served dinner at Agra Mater only three days a week, Friday through Sunday. They spent the rest of the week preparing their ingredients.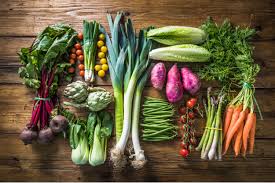 Farm-to-table is quite the rage among American foodies and we've been to many in California, especially in the wine country. Many are phony, genuflecting to a fad. They're like the masses currently flocking to yoga.
Matteo and Lara, on the other hand, were the real thing. Their dedication was remarkable, both having shunned more lucrative opportunities in better known places to do it their way here in Marche.   Matteo's abandonment of London was a special testament to this.
They listened to Julie and I praise their cooking with a mixture of pride and bewilderment. We told the pair that we were San Francisco foodies and that their cooking was in par with the best the Bay Area offered. I am not sure they quite understood that.
We had forged a bond with Matteo and Lara beyond their usual clients. As they departed with their gear, we promised to visit them one more time at Agra Mater before we left Marche.
To be continued.