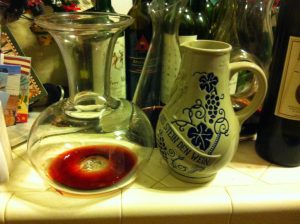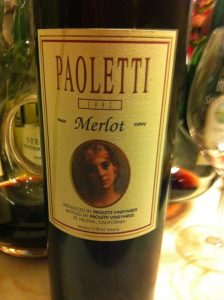 (Originally posted on 12/27/2014)
My friend Steve Cottrell, who has a large collection of well cellared old domestics, holds an annual Christmas open house in which he shares some with other wine lovers and friends. He usually pours several into decanters and asks us to guess what they are. This year he put out five decanters, each a different shape and size. He told us there were four wines and a "mystery wine", giving us the names and vintages of the four ahead of the tasting. Several hours later when he declared the correct answers we all realized we had be tricked, both by Steve and our own palates.
Steve's event is not a formal wine tasting. Far from it, the open-house is a big party held in a small kitchen full of pot-luck foods, numerous other pot-luck bottles of wine, and plenty of loud conversation with Christmas cheer. The kitchen smells of food and nearby rooms smell of pine and other scents from various Christmas trees. In short it is what I would consider a perfect storm of a sensory contaminated tasting environment. Regardless, the trick we all fell for should not have happened to experienced tasters like us who hold our own palates in high regard.
Here's what happened: Steve had a magnum of 1992 Paolletti Merlot from Napa. Not wanting to waste half the bottle he poured it into two very different decanters you see in the above photo. He made the large crystal decanter wine #1 in his line-up, and that smaller, blue carafe #5. In between he had a 1978 and 1981 Inglenook Cabernet (Napa) and a 1982 Jordan Cabernet (Sonoma).
The result was that no-one, including three wine professionals who attended the party, guessed wines #1 and 5 as being the same. Wine #5 tasted like what we would expect from an old domestic Merlot, flabby, oaky, indistinct, worthless. But #1 was wonderful, the best of the bunch, great fruit, well balanced, lively. Could it have been a Heitz Matha's Vineyard, we wondered.
After Steve's declaration, we all were humbled, our snobbery taken down a notch or two. We left the party wondering what happened. How could we all miss this?
I have addressed this same theme of misidentified identical wines in prior blogs (6/18/14 and 2/5/13, if you care to go back to prior pages on this site). In these prior occasions two different bottles of the exact same wine were coincidentally included in more formal tastings, and misidentified. Here we could claim bottle variation. With the Paoletti Merlot we couldn't.
Was it us or was it the wine?
This is a question of relativity, no different than the illusion of a moving train when yours is stationary and it is the neighboring one that's actually moving. Let me explain:
The wines had clearly changed. They were poured into dramatically different vessels two hours ahead of the party and, breathing differently, had been chemically altered by their oxygen exposure in different ways.
But we – or I should say, our palates – had also changed. Already distracted by the sensory contamination in Steve's kitchen, our palates had experienced the other three wines in between, each with radically different noses and flavor profiles. By the time we went from #1 to #5 our palates were reset, preparing us for failure.
Sometimes the moving train is not an illusion. Both trains can be moving at the same time.
These three experiences on the same theme all attest to another basic rule of the wine experience: The subjectivity of it all.