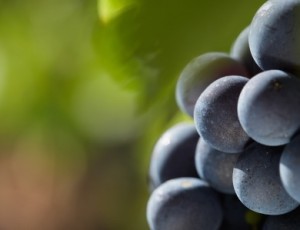 Someone suggested a Cabernet Franc tasting, domestic versus French. Not again!
Over the years I've been through a few of these. They have all left me with the same impression: the French maintain the essence of the grape while Americans make a mess of it. Would this one be any different?
Cabernet Franc is mostly a blending grape, ubiquitous in Bordeaux where it plays second fiddle to its more illustrious counterparts, Cabernet Sauvignon and Merlot. These mixes are imitated in other parts of the world.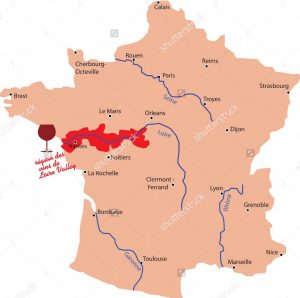 The only region where Cab Franc is a mainstay solitary varietal is the Loire Valley of France. There the grape rules the roost, Chinon being the top appellation, Bourgeuil a close second, and Saumur-Champigny an upstart that is catching up.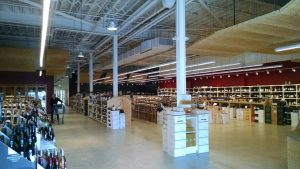 In North America, single varietal Cab Franc is a novelty item made only by a few. In a recent search at the cavernous K&L wine store in San Francisco, known for the depth and variety of its offerings, it took an experienced clerk quite a while to find me a single domestic Cab Franc on display.

Loire Cab Francs have cool weather characteristics: light fruit with green pepper or small berry flavors and hints of smoke. Many, especially Bourgeuil, have characteristic burned pepper noses and flavors. It may sound off-putting, but it's delicious, once the taste is acquired. The wines are well balanced and pack a wallop of acidity in their finish, making them friendly with a variety of foods, especially pork and poultry, some pastas and steaks.
When tasted by themselves however, they don't compare well with more fruit forward, higher alcohol, somewhat sweeter wines from North America. Nor do they do well against their more lofty French brethren from Bordeaux or the Rhone Valley. This may be why most Loire reds are stuck at relatively bargain prices when all others keep rising.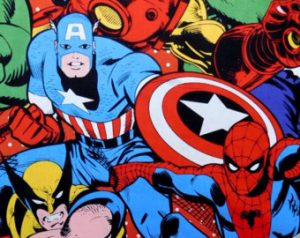 Meanwhile, American winemakers who have an uncanny ability to take any grape and make it taste like a popular, well selling varietal, create Cab Francs with highly extracted fruit on the sweet side, with high alcohol and prominent oak. They are hard to identify as Cabernet Franc and resemble Cabernet Sauvignon or Merlot. Prices tend to be high, certainly higher than Loire Cab Francs.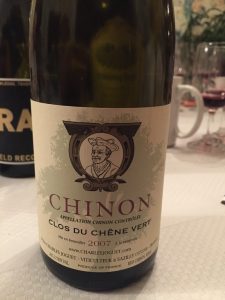 By coincidence, our tasting, a BYOB, combined four French and four domestics. The French were predictable and, with one exception, pleased those tasters that like the Loire style. Included were a 2007 Chinon from famed producer Joguet, and a 2015 Bourgeuil Domaine de la Butte. Baudry, another respected producer appeared with a 2007 Chinon that was over-the-hill. A disappointment. The best of the bunch was a 2007 Bourgeuil from Catherine & Pierre Breton. All these were lighter style, well balanced, food friendly wines. They retail in the $ 30-45 range.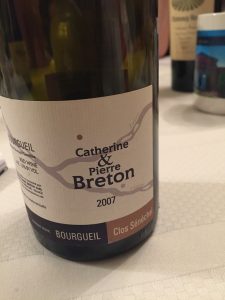 The Americans were a hodge-podge. We began with a 2014 Andrew Will from Columbia Valley in Washington State.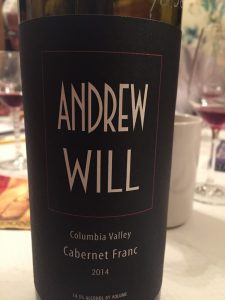 It was a big and fruity wine, sweet and with striking spice and aggressive tannins that dominated the finish. It tasted nothing like Cabernet Franc and was not worth $ 40 it sells for.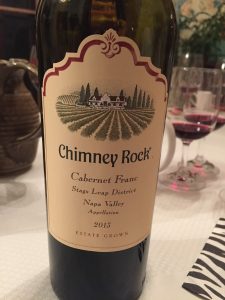 A 2013 Chimney Rock could have easily been mistaken for a well made Merlot. It was elegant, well balanced, a bit ripe and sweet, and oaky in the finish, not overly so. I described it as a wine that appeals to popular tastes. Located in the Stags Leap district of Napa's Silverado Trail, this winery is better known for its expensive Cabernet Sauvignons. So was this Cab Franc, $82.
Would anyone pay that price for a bottle of Cab Franc? I liked the wine, but not I.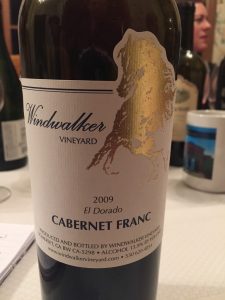 The worst of the domestics was a 2009 Windwalker from El Dorado Hills in Amador County that retails for $22. It exemplified all the sinful excesses that domestic wine makers commit. The wine was huge, sweet, oaky from beginning to end, high alcohol and, in many ways Port-like. Stunned, the only comment I could offer was, "I didn't know Cabernet Franc could make a dessert wine."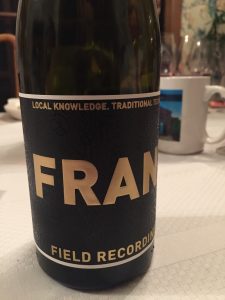 Just when I thought all hope was lost and this tasting would go the way of all the others, a surprise appearance from Paso Robles turned out to be most notable: this 2016 Franc Field Recordings. It had a floral nose, light Chinon-like fruit and a smoky mid palate. Those of us who like the Loire style mistook it for a Chinon. In retrospect hints of sweetness in the upfront fruit and less pronounced acidity gave it away as domestic.
Finally we had come across a Loire style Cab Franc from California. Hallelujah!
At $19 it was the cheapest wine in the tasting. Hallelujah again.